A Perfect 10
April 26 - San Francisco Bay
It was a perfect night for a 10th birthday: Eight kids ten and under, one dad, one sailboat (a Ranger 33), clearing weather leaving rainbows behind and another affirmation of why it's so great to be able to sail on San Francisco Bay.
It's a fantastic experience taking eight kids out on a boat that sleeps six for an overnight excursion. Hardly anyone had sailed before, no one (except our two) had spent a night on a boat, yet at ten years old the sense of adventure far outweighed any sense of fear. Seals, seabirds, fish and rainbows plus the motion of the ocean and the wind in the sails provided all the excitement anyone needed.
Safety, sailing and steering were of primary importance until we were settled comfortably between the mooring buoys at Ayala Cove. An evening barbecue on the transom was followed by cake around the dinette and all kids sleeping very cozily the night through. We took a morning walk atop Angel Island before a sweet sail home. The smiles on the kids' faces reflect the feeling we get every day we go sailing, and it's great to be able share the fun with friends when you're turning 10!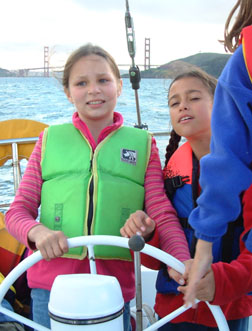 Photos Latitude/John Arndt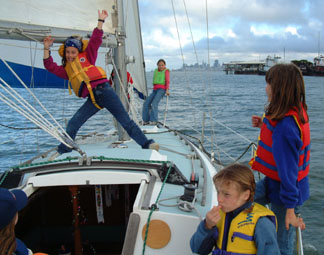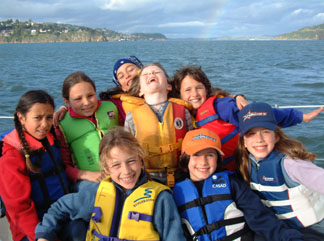 From left to right: front row, Erin, Dorian, Martha;
back row, Claire, Claire, birthday girl Sarah, Hannah, Marnie. Note the hint of rainbow in the background.