Oracle Ace on Top in Congo Cup
April 10 - Long Beach
Oracle Racing's America's Cup efforts haven't been the slickest looking show in the world, what with keels falling off their boats and the demotion of sailing heroes such as Chris Dickson and Paul Cayard. But maybe things are a lot better than they appear on the surface. For one thing, the latest fun rumor is that the keels feel off the Oracle Boats because they are working on a way to move or twist them, as just a degree or two of better pointing ability would be devastating. Secondly, who needs a Dickson or Cayard when Peter Holmberg, originally from the Virgin Islands, continues to kick butt in the match racing circuit? At yesterday's Congressional Cup put on by the Long Beach YC, Holmberg was the top dog. Rich Roberts explains:
"Who is going to stop Peter Holmberg from winning his fourth Congressional Cup in five years? Nobody had the answer on a breezy opening day of racing Tuesday when the world's No. 1-ranked match racer ran the table against fellow America's Cup campaigners Ken Read and Rod Davis, former world champion Ed Baird, local favorite Scott Dickson and Britain's Andy Green to stand alone at 5-0. Holmberg, from the U.S. Virgin Islands, looked even more like a solid choice to lead Oracle Racing's challenge starting later this year.
"Holmberg, coming off wins in the last two Swedish Match Tour events, was on his game. He beat Read by forcing him over the starting line early with a quick, deft tack. Next he got Dickson when he feinted a 'dial-down' hunting move, then came back on the wind as Dickson, sailing with older brother Chris as tactician, hesitated and momentarily fell into irons head to wind. Then Holmberg scrubbed off a penalty against Davis with a hard luff near the finish that drew Davis into a foul that canceled out his own.
"Other action included a couple of America's Cup veterans tumbling overboard - bowman Jerry Kirby off Read's boat and main sail trimmer Steve Erickson off Brady's boat. Each hauled himself back on board without serious injury, although Kirby was still bleeding from the bridge of his nose back on shore.
The Congressional Cup's total purse is $25,000. The top eight finishers receive Swedish Match Tour Championship Prize points. The top eight point leaders at the conclusion of the Swedish Match Tour divide a $200,000 prize purse, with the Swedish Match Tour champion receiving $60,000."
The Congo Cup continues through this weekend, and is held right off the tip of the Belmont Pier, just south of Long Beach. If you want the greatest possible front row seats for the best match racing in the world, it's free, and it's at the end of the pier. It's entertaining beyond belief, and if you're in the area you really should check it out. In most racing, the starting area is kept clear. In the Congo Cup, spectator boats are anchored near the starting area, and used as weapons by the competing boats. Near collisions are a dime a dozen.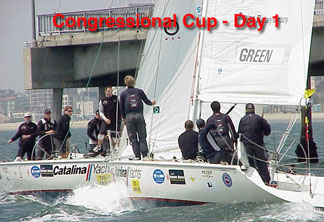 Photo Rich Roberts