Weather Updates
Hurricane Prediction
September 7 - Atlantic Ocean
For the last bunch of years, William Gray of Colorado State University has been making hurricane predictions based on what seems to us to be an incredibly complicated formula laced with monumental variables. So it comes as no surprise to us that his hurricane prediction for the 2001 Atlantic-Caribbean season has been more than a little off. Earlier this year, Gray predicted normal or slightly greater than normal hurricane activity. Alas, this is the first year since the mid-'80s that there hasn't been a single Atlantic-Caribbean hurricane by so late in the season. We think a Ouija board would work better. Currently Tropical Storm Erin is rumbling up the Atlantic, and for Gray's sake, we hope it turns into a hurricane.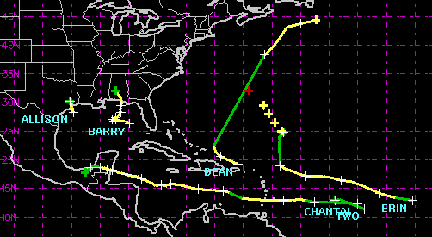 Tropical storm activity this season to date
Unisys Weather Graphic
September 7 - Pacific Ocean
San Francisco Bay Weather
To see what the winds are like on the Bay and just outside the Gate right now, check out http://sfports.wr.usgs.gov/wind/.
California Coast Weather
Looking for current as well as recent wind and sea readings from 17 buoys and stations between Pt. Arena and the Mexican border? Here's the place - which has further links to weather buoys and stations all over the U.S.: www.ndbc.noaa.gov/stuff/southwest/swstmap.shtml.
Pacific Winds and Pressure
The University of Hawaii Dept. of Meteorology page posts a daily map of the NE Pacific Ocean barometric pressure and winds.
Pacific Sea State
Check out the Pacific Ocean sea states at: http://www.mpc.ncep.noaa.gov/RSSA/PacRegSSA.html.
For another view, see http://www.oceanweather.com/data/global.html.