Graphic of the Day
September 28 - Baja California Sur
Hurricane Juliette smacked the Southern Baja Peninsula, including Cabo San Lucas and La Paz last night, causing both death and destruction - although the exact amount is still being sorted out. Enrique Fernadez, manager at Cabo Isle Marina, reports they had about 90 knots of wind last night between 6 and 8 pm and a tremendous amount of rain. The boats and docks at Cabo Isle Marina are reported to have weathered the storm without a problem - just as they did with Hurricane Isis, which made a direct hit a few years ago. Marinas de Bajas, which is located near the entrance to the harbor, on the other hand, is reported to have suffered extreme damage to its docks. It's also unclear what effect the flash floods might have on the infrastructure. When Isis hit, it knocked out the water supply for weeks. The town, which is almost void of tourists because of the recent terrorist fears, has a record of bouncing back quickly after hurricanes.
We're also told that La Paz was hit by 90 knot winds and tremendous rain later in the evening. A spokesperson for Marina de La Paz told us that their marina and the boats in it were fine, but they and others were in the midst of trying to account for missing or dismasted boats. They weren't aware of any deaths, and nobody should be quick to jump to any conclusions about boats that can't immediately be accounted for. There was plenty of warning that this hurricane was coming, so any number of options may have been taken.
Currently Juliette is headed up the west coast of Baja and weakening significantly. We'll have more on Monday.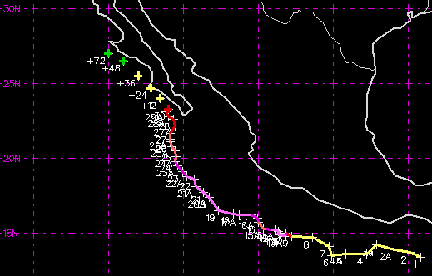 Graphic Courtesy Unisys Weather