Photo of the Day
September 27 - Mexico
A clean wake? "My wife and I spent four months on our shakedown cruise along the Pacific Coast of Baja, up to La Paz, and on to San Carlos where we left our boat for the summer," write Jackie and Steven Gloor of the San Diego-based Moonshadow. "We had a great time and met a lot of wonderful people - cruisers and locals - along the way.
"What we saw of trash disposal bothered us quite a bit, however. On almost every beach we found trash in various forms: glass bottles, plastic, empty motor oil containers, and so forth. Fishermen, who stay in camps nearby, leave much of this trash behind. We assume it was their trash because the amount of trash increases drastically the closer you get to any fish camp. However, as the enclosed photo shows, there are many sites where cruisers clearly have attempted to burn their trash, not realizing that tin cans and glass bottles don't burn. This accompanying photo, for example, was taken right next to the 'cruisers' shrine' at Ensenada San Juanico. This trash had to be brought there by cruisers since there is not a single fish camp anywhere nearby, and there is no road leading to the shrine. We found evidence like this in other places, such as on Isla San Francisco, as well.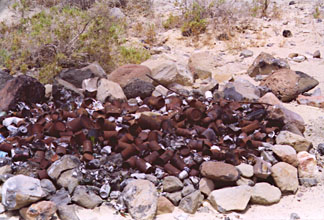 Photo Courtesy Moonshadow
"We follow the trash procedures we learned at several cruising seminars we attended. The first rule to follow is 'try to produce as little trash as possible'. We leave all packing materials not required at the dock before we leave. All recyclable trash is compacted and separated from burnable trash. If we are anchored out for an extended period, we do burn our trash on the beach. We do this by digging a hole below the high tide line, starting a fire with driftwood, and then slowly adding trash to the fire until all has turned to ashes. In most cases we clean the beach of any plastic in the process as well. After we're done, we cover the small pile of ashes we created and let nature take over. We hope all cruisers follow these simple steps."
Latitude 38's policy comes from the Caribbean, where the motto is: Take only photographs, leave only footprints. We don't think the burned cans - which could easily be bagged and taken back for proper disposal - count as footprints.
By the way, if anybody knows of such piles of garbage on the islands between La Paz and Isla San Francisco, and their exact location, we'd like to know about them. We're planning to visit these islands immediately after the Ha-Ha with Profligate, and would have the space aboard on which to bring such trash back to La Paz for proper disposal.