illbruck Takes the Lead in Volvo
September 26 - Atlantic Ocean

Northern Californian John Kostecki's illbruck, the pre-race favorite in the Volvo Around the World Race, has finally taken over first place. It's very early going, of course, and the fleet is bunched in two groups, neither of them with much of a lead:
1. illbruck, 6,838 miles to finish; 2. Tyco, 1 mile behind leader; 3. Amer Sports One, 6 mbl; 4. Assa Abloy, 10 mbl; 5. News Corp, 20 mbl; 6. SEB, 23 mbl; 7. Amer Sports Two, 33 mbl; 8. djuice dragons, 34 mbl.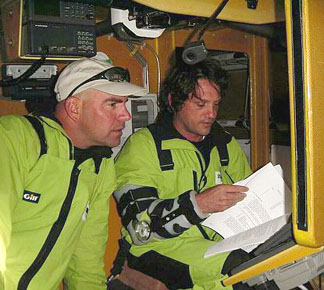 illbruck Challenge skipper John Kostecki
and navigator Juan Vila consider their options.
Photo illbruck Challenge Courtesy www.volvooceanrace.com
Mark 'Crusty' Christensen, Watch Captain aboard illbruck, explains how things are going: "We are now a few days into the trip and things have settled down. The three-day seasickness patches wore off last night just as we got into the 25kts+ upwind and big seas. A couple of the crew lost their lunch, but sleep was the biggest loser. It was almost impossible, the boat dropping off every second wave and freefalling for what seemed an eternity but was probably only a few seconds. The wind and sea state have calmed down a bit but are forecast to build again tonight. Our afterguard of John Kostecki, 'one armed' Juan Vila and Ian 'Soapy' Moore have been doing a great job of positioning us to take advantage of each shift and this morning we moved into first place. The boat seems good, not so downwind and better upwind but more than anything else is staying in one piece.
"Personally the trip did not start so well for me. Each crewmember was bought a silk sleeping bag liner to use in the tropics. We were told it had been placed on our hook. After the boat left the dock I went down to claim mine. Not there. Small dilemma, but I was assured it would be on board; maybe it was buried under some of the gear. So I looked under the gear. This is no small task: there are 3 med kits, 17 food bags, storm sails, spares, etc., probably about 30 bags in all, each weighing 15 kg. Could not find it anywhere. As a last resort, I went aft and checked my personal bag; maybe in a blond moment I had put it away and forgotten it. No. By now I wasn't too happy and as I walked forward I forgot to duck under the winch base and smashed the lenses on my new sunglasses. We still hadn't even started. That night I climbed into my bunk and stood on the plastic latch of my new 'bum bag', 'fanny pack' whatever they are called and broke that as well. We use these to keep our safety gear in so no matter what you are wearing you can have your strobe light, etc., with you. I guess that was three and it couldn't get any worse. Since then it hasn't. My silk liner turned up in none other than 'Hoo' Ray Davies' collection. He was telling us about trying to climb into his new liner and I remembered his new liner was still hanging on his hook. He could have saved me some stress looking for it. I stole his glasses as payment for using my liner. I am on deck in 15 minutes so all for now. Regards to all."