Weather Updates
Hurricane Juliette Reaches Category 4
September 25 - Eastern Pacific Ocean
Hurricane Juliette, a powerful Category 4 storm with sustained winds of 125 knots, is moving to the northwest several hundred miles off the coast of mainland Mexico. While the storm is expected to stay offshore, officials' biggest fear is that it might curve back toward Baja. Meanwhile, Hurricane Kiko, with just 65 knots, blows harmlessly even further offshore.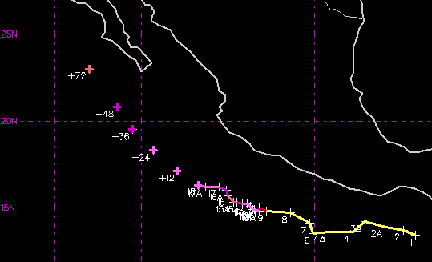 Hurricane Juliette
Graphic Courtesy Unisys Weather
September 25 - Pacific Ocean
San Francisco Bay Weather
To see what the winds are like on the Bay and just outside the Gate right now, check out http://sfports.wr.usgs.gov/wind/.
California Coast Weather
Looking for current as well as recent wind and sea readings from 17 buoys and stations between Pt. Arena and the Mexican border? Here's the place - which has further links to weather buoys and stations all over the U.S.: www.ndbc.noaa.gov/stuff/southwest/swstmap.shtml.
Pacific Winds and Pressure
The University of Hawaii Dept. of Meteorology page posts a daily map of the NE Pacific Ocean barometric pressure and winds.
Pacific Sea State
Check out the Pacific Ocean sea states at: http://www.mpc.ncep.noaa.gov/RSSA/PacRegSSA.html.
For another view, see http://www.oceanweather.com/data/global.html.