Day of Mourning
September 14 - USA and Cuba
As this is a national day of mourning, we will limit today's 'Lectronic Latitude to the following letter of condolence and support by our friend Lic. Jose Miguel Diaz Escrich of Cuba. We can vouch for his sincerity. We have not edited his letter.
MESSAGE TO THE UNITED STATES NAUTICAL COMMUNITY THE HEMINGWAY INTERNATIONAL YACHT CLUB OF CUBA WANTS TO CONVEY TO THE NAUTICAL COMMUNITY OF THE UNITED STATES, THE STRONGEST CONDEMN, REJECT AND REPUDIATION FOR THE TERRORISTS ATTACKTS IN NEW YORK AND WASHINGTON CITIES, AS WELL AS, OUR MOST SINCERE FEELINGS OF SOLIDARITY WITH THE AMERICAN PEOPLE IN THESE DAYS OF PAIN AND SORROW FOR ALL THE COUNTLESS OF INOCENT HUMAN LIFES LOSSES. AT THE SAME TIME WE WANT ALSO TO EXPRESS OUR MOST SINCERE CONDOLENCES TO THE PEOPLE OF THE UNITED STATES AND ALL THE FAMILIES OF THE VICTIMS; THE HEMINGWAY INTERNATIONAL YACHT CLUB OF CUBA, MEMBER OF THE GREAT INTERNATIONAL NAUTICAL FAMILY, REAFFIRM ITS CONVITION THAT ONLY WITH LOVE, FRIENDSHIP, SOLIDARITY AND RESPECT AMONG ALL THE HUMAN BEINGS WE WILL ACHIEVE A HAPPY WORLD WHERE THERE WILL NOT BE SPACE FOR THOSE THAT DO NOT CARE ABOUT THE SUFFER OF OTHER PEOPLES'S. YOURS FAITHFULLY, LIC. JOSE MIGUEL DIAZ ESCRICH COMMODORE AND REPRESENTATIVE OF THE IGFA IN CUBA
As the country moves forward, there is nothing more important than for each of us to stand firm by resuming normal life - albeit with perhaps a greater understanding of what's really important in life. It's also crucial for each of us to continue to support the economy. For the short term at least, it helps to buy American. And for so many of us in the sailing world who have been privileged to be able to live, work and start businesses in United States, we have an obligation to 'go long' on America when the markets reopen on Monday.
We're sure a lot of people will be sailing this weekend and wanting to fly the flag. By law, U.S. citizens can fly either the normal 50-star national flag known as the ensign or the yacht ensign, which has a fouled anchor on a field of 13 stars in place of the 50 stars. Few owners of documented vessels may realize it, but they are required by law to fly the yacht ensign while in U.S. waters. The size of the ensign is determined by the size of the boat. The flag should be at least one inch long for every foot of boat length. Ensigns can be flown either from a flagstaff on the stern or from the leech of the aftermost sail.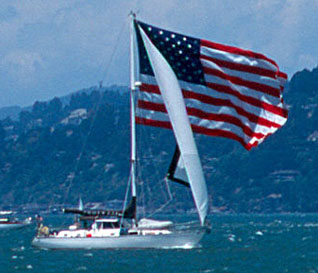 "Sail on."
Photo Erik Simonson