Fossett and PlayStation on Verge of Transatlantic Record
October 9 - Atlantic Ocean

If things continue to go right, later today Pacific Coast Time, Steve Fossett and the maxi cat PlayStation will arrive off The Lizard, England, having crushed the Transatlantic sailing record that has been so durable. If all Fossett's dreams come true, they'll finish in less than five days, and if so will have knocked 25% off Serge Medec's long-standing record with the 86-ft cat Jet Services V. Here's the official release:
With winds remaining at 25 knots+ overnight, monster cat PlayStation has maintained excellent speeds of between 25-28 knots in her quest to break the longstanding NY-UK Transatlantic record. Skipper Steve Fossett and his crew are now on course to smash the current time of 6 days 13 hours 3 mins 32 secs set 11 years ago by Serge Madec on Jet Services 5. By 1000 GMT this morning, PlayStation had approximately 565 nm to reach The Lizard, England - meaning they could cross the finish line as early as 0700 GMT Wednesday morning, taking more than a day off the existing time.
Navigator Stan Honey revealed the secret of their success: "The weather front that has been carrying us along still appears as though it may be progressive enough to make it the rest of the way to the English Channel, which doesn't always happen."
Steve Fossett: "PlayStation has finally come into her own. We are able to sail at her full potential with an experienced crew. We're taking full advantage of this great weather pattern, and hope to post an outstanding time."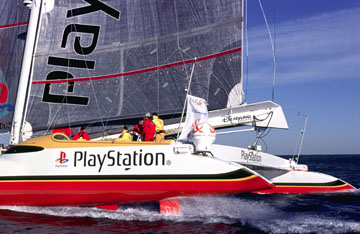 PlayStation as she looked screaming along in The Race
Photo Mark Pepper/Marinepics/pixsail.com
PlayStation has had a checkered history. On her first outing, she set a new 24-hour speed record. After that, there were problems, shortcomings, and a dropout from The Race. But only yesterday she established a new 24-hour sailing record of almost 690 miles, and looks all but certain to smash the celebrated Transatlantic record.
For ongoing record status/updates/information see www.fossettchallenge.com
In other maxi cat news, the dock rumors are that Cam Lewis' Team Adventure, one of three Gilles Ollier maxi cats that sailed in The Race but later had a bow break, will not be repaired. At least by Team Adventure.