Security Zone
October 3 - San Francisco Bay

Randy Trudeau of the PICYA (Pacific InterClub Yachting Association) Safety Committee offers the following information for mariners on San Francisco Bay:
"On September 11, 2001, all Americans' lives changed in many ways. It could be the way we travel to the way we do everyday tasks. The American way of life has been jolted by the horrible attacks in New York, Washington, and Pennsylvania. Just like many things in everyday life, recreational boating is going to have significant changes. The often-carefree way we would conduct ourselves on the water must now be approached with more care and thought. The United States Coast Guard (USCG) has a tremendous job ahead. Their resources are being stretched almost to the breaking point. The Coast Guard's primary task at hand is the patrol and defense of our nation's coast and harbors, maintaining those waters safe for shipping and free of any terrorist threats. They must maintain the flow of commercial shipping that is so vital to this nation's economy. So what can we do as good Americans and responsible boaters to help observe their guidelines while out on the water?
"The first and most important thing that we as recreational boaters can do is to observe the Naval Protection Zone that was implemented in response to the attacks, established effective from Sept. 14, 2001, to June 15, 2002. The zones will provide for the regulation of vessel traffic in the vicinity of U.S. naval vessels in the navigable waters of the United States. The Naval Protection Zone has the following requirements:
"OPERATE AT MINIMUM SPEED: All vessels within 500 yards of a U.S. naval vessel must operate at the minimum speed necessary to maintain a safe course and proceed as directed by the official patrol.
"NOT ALLOWED WITHIN 100 YARDS: Recreational and commercial vessels are not allowed within 100 yards of a U.S. naval vessel, unless authorized by the official patrol.
"PUNISHMENT FOR VIOLATING: Mariners who violate a Naval Vessel Protection Zone are subject to arrest, prosecution, and if convicted, imprisonment for up to six years and a fine of up to $250,000.
"In addition, there is heightened security with regard to commercial vessels. The USCG asks that recreational vessels:
"OBEY RULE 9. Be sure you stay well clear of any large vessel whose movement is restricted by its size. Keep at least 500 yards (1/4 mile) from any commercial vessel. This is extremely important in crossing situations.
"NARROW CHANNELS: In narrow channels, keep as far to the side as possible when approaching or being approached by a commercial vessel. Do not make any abrupt course changes or other maneuvers that may concern the ship's pilot.
"Finally, the USCG asks that recreational vessels stay away from sensitive areas. These include, but are not restricted to, bridge towers, refinery docks, anchored vessels, and military installations such as Port Chicago. If you have any doubts about a particular spot being regarded as sensitive, assume that it is.
"Keep a minimum of a TWO-MILE DISTANCE away from airports and runways. Violators are subject to boarding and arrest.
"FLY YOUR CLUB BURGEE. This will help identify you and may reduce your exposure to being boarded."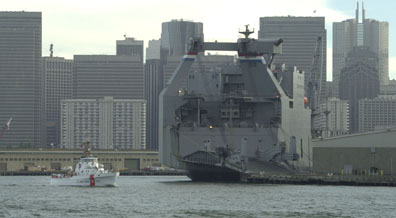 Photo Latitude/Richard