Kostecki and illbruck Victorious in Leg One
October 26 - Cape Town, South Africa
It was a terrific victory for Northern Californian John Kostecki and the German boat illbruck in the England to South Africa first leg of the Volvo Around the World Race. illbruck held an early lead, lost it, then overtook and passed the vastly experienced Grant Dalton and Amer Sports One with just a couple of hundred miles to go. Kostecki and the illbruck crew had been practicing hard for two years, while Dalton only got his boat a short time before the start of the event. In the tight reaching heavy wind conditions of the last several hundreds miles, Kostecki's experience showed. This is the second Whitbread/Volvo in a row where the first leg was won by a Northern California skipper. Last time it was Paul Cayard in EF Language. Invariably, the winner of the first leg has gone on to win the whole event.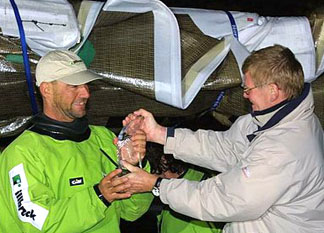 illbruck Challenge skipper John Kostecki is congratulated by
Volvo Ocean Race CEO Helge Alten in Cape Town.
Photo Richard Langdon/Electronic Image
Courtesy www.volvooceanrace.com
Dee Smith of Novato was aboard Amer Sports One, which, given their short prep time, did a fabulous job. Here's his report:
"We finished 36 hours ago, and it's good to be on land after 31 days at sea. Sorry we couldn't hold the illbruck off. We have some problems that are being sorted out now. Basically, we couldn't change sails very well with our halyard lock problems. Then we would wait to see if the shift or pressure would change. By the time we did change, the shift would be gone - so we just couldn't stay ahead of the game. Were we slow in that condition? Don't really know, but I'm sure we could do a lot better. And yes, we should have been able to hold them off. We were lucky to be far enough ahead of everyone else that it didn't matter. The good news is we did get a second place, and a huge time advantage on the other boats during the stop over. We have more time to rest, six days off next week. More time to get the boat sorted and go over all the data from the race. I was very worried that we could have started the regatta with a 6th place finish. Now the crew have confidence in the boat and ourselves. We know we are not faster, but not slower either. It is time just to take a deep breath and be happy where we are. I am very happy with the way the back end of the boat is working. Grant and Roger's vast experience in sailing around the world (13 trips combined) match up with Bouwe and my tactical knowledge. What we did do well was not make any big mistakes, in fact only a couple of small ones. This way, when the opportunity came up to grab the lead, it was possible because we were close enough. Still much work to do, but we think it can only get better."