Masters Regatta
October 16 - San Francisco Bay

St. Francis YC's 23rd annual International Masters Regatta, held on Oct. 12-14, was lower-key, warmer and fuzzier than last year's epic gathering - but nonetheless still excellent. Fourteen skippers, all at least 60 years old, were invited to the five-race, round-robin J/105 series - six were local, two from SoCal, one from Seattle, and five from east of the Mississippi. Crews had to be at least 45 and, as opposed to last year, rockstars (Category 3) were banned. The competition was fierce, the Indian summer weather perfect, the camaraderie excellent.
With two different race venues (Cityfront for the first two days, Berkeley Circle for the last) and different borrowed boats each day, the regatta was quite challenging. The eventual winner, Florida chiropractor John Jennings, had another obstacle to overcome - he only brought along one crew, restaurateur Phil Smithies, and had to draft local sailors he had never met before to round out his squad. Obviously a quick thinker and a gifted sailor, Jennings patiently solved the riddle of this year's Masters, putting together a fine 3,4,7,2,4 series to beat local sailor John Scarborough and his 'Frick n' Frack' crew by one point.
Kudos to organizer Don Trask, race chairman Pax Davis, race manager John Craig, sponsor Dry Creek Vineyard, and - above all - the J/105 owners who generously loaned their boats for this wonderful event. Complete results and crew lists can be found at www.stfyc.com.
RESULTS - 1) John Jennings, 20 points; 2) John Scarborough, 21; 3) Dave Irish, 25; 4) Hans Fogh, 32; 5) Larry Harvey, 33; 6) Bruce Kirby, 35; 7) Don Trask, 36; 8) Bill Buchan, 38; 9) Doug Baird, 41; 10) Terry Anderlini, 42; 11) John Rumsey, 43; 12) Bruce Munro, 45; 13) Dave Wyman, 57; 14) Glenn Isaacson, 58. (14 boats)

BOATS USED (alphabetical order) - Aquavit, Arbitrage, Blackhawk, Capricorn, Hazardous Waste, Horseplay, Irrational Again, Kookaburra, Larrikin, Liberty, Nirvana, Tiburon, Whisper, #443.
Photos Latitude/
Richard and Rob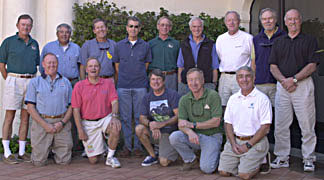 The Class of 2001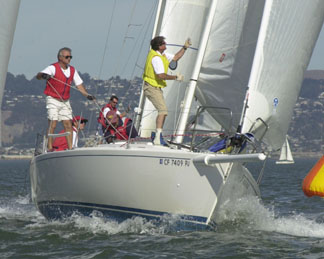 Could that be. . . Kimball Livingston on the bow?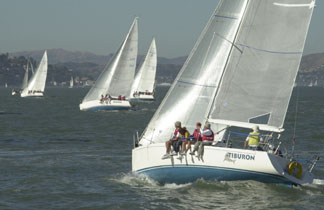 An upwind leg. . .


. . .a downwind parade along the Cityfront. . .


. . .and a patriotic parade in front of the St. Francis.