Fossett and PlayStation Crush Transatlantic Record
October 10 - The Lizard, UK

Four days and 17 hours to cross the Atlantic from New York to the Lizard, England, on a sailboat? It's hard to believe, but that's exactly what Steve Fossett and his nine-man crew have just done aboard the 125-ft maxi cat Playstation. En route, they set an all-time 24-hour sailing record of 687 miles.
To put things into perspective, they completed the course 44 hours faster than previous record holder Jet Services V, which averaged 18.62 knots. PlayStation averaged 25.42 knots for the entire course. To look at it another way, Roy Disney's Pyewacket holds both the TransPac and Pacific Cup records to Hawaii, with average speeds of just 12.1 and 13.0 knots respectively. In other words, PlayStation was almost twice as fast for nearly twice the distance.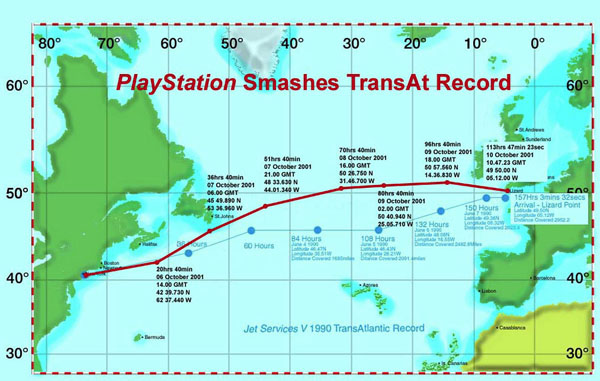 Graphic Courtesy www.fossettchallenge.com
Among the keys to this brilliant new record were excellent winds which held up the entire way, and sailing just about the shortest course possible. PlayStation, guided by navigator Stan Honey, actually sailed 2,885 during the crossing, just 9 miles more than the Great Circle route.
Shortly after passing the finish line at The Lizard, an elated Steve Fossett said, "This is enormously satisfying. We put it all together; an extremely fast boat in PlayStation, ideal weather and a crew who sailed brilliantly." Navigator Stan Honey added, "I'm absolutely delighted. It is an honor to sail with Steve and these guys."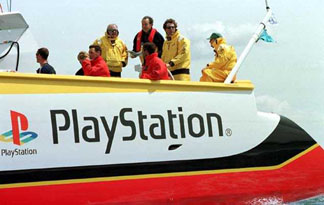 Photo Courtesy Hoya
PlayStation's crew for the record run were as follows:
Steve Fossett (USA), Skipper; Stan Honey (USA), Navigator; Ben Wright (AUS), Watch Captain; Dave Scully (USA), Watch Captain; Gino Morrelli (USA), Boat Designer/Crew; Peter Hogg (NZ), Shaun Biddulph (UK), Dave Calvert (USA), Paul Van Dyke (USA), and David Weir. Honey and Hogg are from Northern California; Morrelli is from Newport Beach. For more information see www.fossettchallenge.com