Photo Caption Contest
November 5 - Monroe, Michigan
We got about three dozen responses to Friday's photo caption contest, some of which included multiple suggestions. Some of our favorites ranged from the brief and simple: "Popsicle toes," Peter Whitney; to rocket science: "Team Blue's latest computer models left traditional thinkers in the dust when they revealed that losses from additional keel drag were more than offset by gains from reduction in wetted surface area. They went on to take triple bullets and win the mudsuckers series" (this from Dave Biggs of Space Systems/Loral).
Scott Keck of the Ranger 23 Chaos out of Emery Cove Marina sent in some classified ad copy, "For Sale: Depth Sounder, Like New. Needs slight calibration." "Virtual Cradle - Allows 360 Degree Access to your hull!" "As part of our Premium Dredging Package, we now coat the bottom of the Marina with 3M 5200!" More ad copy from RWCat: "MONROE MICHIGAN MARINA, This Month's Renter's Special: Free Haulouts!* * Subject to tidal conditions."
Jay Sorensen writes, "Hey Peter! Tell Tink we need a little more Pixie dust here!"
Inevitably, there were a couple of Viagra jokes, including this from Jon Rolien, "See what happens when you feed a center boarder VIAGRA!"
Maybe there's such a thing as too light displacement? From Stan Wieg, "Shoal Draft Cruiser or UULDB - Ultra Ultra Light Weight Displacement Boat." "Some of the real ultra light boats have this problem, if you drain the holding tank and without crew aboard they tend to come off their water lines a little," Frostse-Cat. "When the folks at Hobie said these boats were 'ultra light', they weren't
kidding!" Scott H. Valor. "Lead, dammit! I said lead in the keel, not cork," Mik Beatie. "Our innovative new keel bulb flotation system eliminates the need for winter haul-out and bottom paint. We'll be ready for the America's Cup once we figure out why it won't steer," Anne & Mark Thomas
On racing strategy from jswalling: "I think we took off too much stuff for the Saturdays race . . . do you think?" Peter Schoen: "What did you take out to lighten the boat?" Ken Haas: "Hey gang, the helm feels REAL light . . . I think we are going to be fast today!"
Someone at the Morro Bay Police Dept. sent this one: "Taking after the Florida walking catfish." From Latitude contributor George Backhus, "Just another example of 'global shallowing'." Thomas Judge writes, "How NOT to fly a hull on a Hobie." Pat M: "Looks like a good time to drain the bilge . . . where is the plug?"
Jeff Coult of the Landfall 39 Northern Exposure out of Juneau, AK, sent in several, including: "I never imagined this would happen if the water bill was only a little late; Slip for sale, price greatly reduced; Has the dredging company cashed their check yet? The Army Corps finds yet another cost cutting method, think anyone will notice? I wondered why this slip was so cheap; and Poor man's dry dock for rent ."
Lance Berc suggested, "Hobie's monohull answer to their successful beach cat line, or the more erudite: Reduced wetted surface and a balanced helm are two techniques practiced by racers in the light winds common to the Great Lakes." He adds a PS: "Who pulled the plug on the lake? it's not like they have tides, and I've never seen a seiche of that magnitude."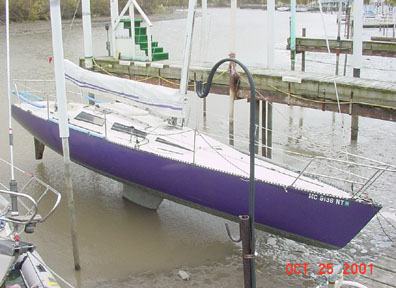 Photo Courtesy Mark McCrindle
Mark McCrindle, who sent us the photo last week, writes, "I'm glad I own an Etchell that stays on the trailer." Our favorite caption and the winner of a Latitude 38 or Baja Ha-Ha T-shirt? Scott Keck's collection of ads, especially the one about the depthsounder that "needs slight calibration." Thank you to everyone who wrote in!