All in Just a Month
November 28 - Puerto Escondido, Mexico

"We claim to be the first 2001 Ha-Ha boat to have sailed as far north as Puerto Escondido," report Dave Gilman and Tint Khine of the F-31 trimaran Prime Directive. We arrived on November 16 after overnights at Frailes, Muertos, Caleta Partida, Escuela, and Agua Verde. At Muertos, we traded some Pringles chips for some fresh tuna from fellow Ha-Ha participant Desperado, as those guys were still hooking them. At Partida, there was great swimming and a potluck with Ed and Daisy of the CSY 44 Siesta, another Ha-Ha boat. Agua Verde saw us completely secluded into a shallow cove with a stern line to a rock ashore.
"Though we only used one gallon of gas during the entire Ha-Ha, going around the Cape and heading north required lots of motorsailing! I nominate our 9.9 hp auxiliary outboard as the hardest working northbound piece of gear on our boat, after bravely pushing us through through lots of steep chop, the prop sometimes biting only air. (Southbound, the hardest working piece of gear was the autopilot struggling to straighten us out after we accelerated on the crests of some big swells. Whoa!)
"Puerto Escondido was our destination for meeting friends who brought our truck and trailer down to us, so imagine rounding the corner to the inner harbor to find . . . another F-31! After being the multihull baby in the Ha-Ha fleet, we're freaked to find Al and Cindy Pagel with UFO, getting ready for a southbound romp. Another Ha-Ha boat, Air Ops, the Amel Maramu 46, pulled into Puerto Escondido on the 20th while we were busy de-rigging for the long drive to home. We finished up November 25 back in our parking spot at Alameda, exactly four weeks and a day after leaving. I guess that makes us one of the the fastest Ha-Ha boats to make a round trip - though not exactly a Baja Bash. Have we crammed enough into this vacation as possible?"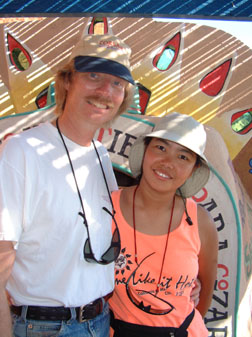 Dave and Tint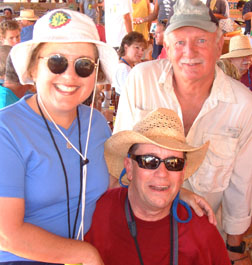 The Siesta gang
Photos Latitude/Richard