Dashews Finish First in Caribbean 1500
November 23 - Virgin Gorda, BVI
The 52 boats in early November's West Marine Caribbean 1500 had to cool their heels for four days while waiting for hurricane Michelle to clear the course from Hampton, Virginia, to Virgin Gorda in the British Virgins. After she did, the fleet faced a variety of conditions, from flat calm and mirror seas to winds in the low 30s and big seas.
Tucson's Steve and Linda Dashew with their 78-ft ketch Beowulf smashed the elapsed time record by four hours, a record they'd established only last year. The couple completed the 1,314-mile course in 123 hours, 37 hours of which were motoring, as is allowed under the rally rules. Apparently none of the 52 entries sailed the entire course, as the largest catamaran motored substantially longer. As of press time, motor allowances and handicaps hadn't been announced, so we have no idea who might have corrected out first. Regretably, the organizers haven't even provided the most basic information on boats entered, so we have no idea what type or size boats entered, and from where.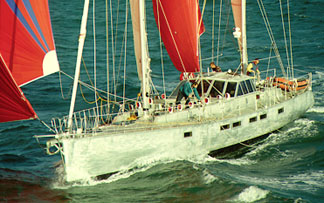 Beowulf
Photo Courtesy Dashew Offshore
Three of the 52 boats didn't complete the course. One of them returned to Virginia after breaking a boom, two dropped out in Bermuda with gear problems, and Bon Secour, vessel type unknown, was abandoned 250 miles from Bermuda after a bad encounter with a fishing net. A rope in her prop ripped her engine right off the mounts to begin with, then the rudder got snagged. When a diver was unable to clear the mess, the owners and crew abandoned the boat for a British naval vessel heading to Florida. One other boat was still at sea during the awards ceremony, while two arrived by dinner. A hurricane delay can really screw up a schedule.
More than 600 boats have paid an average of $1,000 to do the Caribbean 1500 over the years. Generally speaking, it is a much more challenging event than the Ha-Ha on both boats and crew.