Blair, Joan and Capricorn Cat at Fanning Island
May 8 - Fanning Island

The Grinols, of Capricorn Cat, have checked in with this report:
"Today was a nice day - although it rained about five times. We went to visit the village where we had dinner last night. We took gifts, balloons and packs of Kool-Aid for the children, a file for the chairman of the village to sharpen his saws, and two small drill bits to drill holes in shells for stringing necklaces. I gave the Chairman a watch for his granddaughter - I had bought 20 cute little watches at the Jerrataderas Tuesday market. The Chairman insisted on giving us two eggs that one of his chickens had laid, then invited us to lunch at the Maneaba. We had fritters, deep fried sweet yeast breads, fresh bread slices with a coconut/chocolate syrup poured over them, fish, rice, shredded breadfruit cooked in coconut milk to make a mush, warm tea, and some rice/bean combos. There were just a dozen or so men and children, and one woman who traded most of the stuff. We traded an old snorkel and mask for a stalk of bananas from another native.
"Unfortunately, the anchorage here at Fanning is on the leeward side of the lagoon, so it's quite windy and rolly most of the time. Otherwise it is a nice quiet place to spend some time. On the seaward side of the pass, it is calm and some boats anchor out there. There are two boats here with guys that work here in the saw mill where they make some kind of custom decorative beams and posts for builders in Hawaii. But the biggest export from Fanning is seaweed. They grow the major portion of the seaweed shipped to Tarawa to be processed for use in cosmetics. The problem is the workers make just $10/day while Mary Kay and the other companies make the big money.
"Later we hunted down the Customs and Immigration officers to get cleared out. We are leaving for Palmyra tomorrow morning. We will be there about a week and then continue on to Penryhn Atoll, Suwarrow Atoll, Samoa, and Tonga."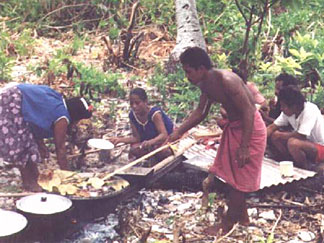 Villagers prepare for an outdoor celebration.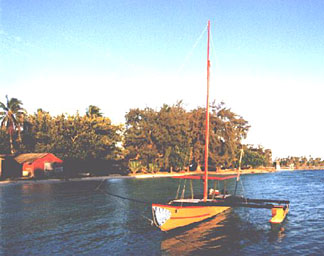 Fanning Island waterfront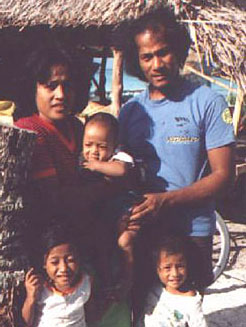 Family is the center of village life.
Fanning is a 12 mile by 4 mile island, 1,200 miles south of Hawaii, home to about 1,600 people.
To find out how you can help the Fanning Island Relief Project, or to see more photos, go to www.interpac.net/~fanning/index.html
That's where we got these pictures.