---
Photos of the Day

May 3 - Colon, Panama

No wonder the ship seemed a little slow. When the cruise ship Volendam pulled into Colon, Panama, they discovered that they'd 'hooked' a whale on the top of their bow bulb. It was so well embedded that the carcass had to be pulled free by a tug before the cruise ship could transit the Canal.


Photos Courtesy David Wilson
---



Fastest Boat in the World Is for Sale

May 3 - France


Photo G. Plisson Courtesy Club Med

Club Med, the 110-ft maxi catamaran that Grant Dalton used to win The Race, is now for sale for $3 million. As a result of having averaged more than 18 knots while sailing around the world and covering 655 miles in 24 hours, she is considered the fastest sailboat in the world.

If you're thinking about buying her, check out Bob Fisher's very interesting interview with Grant Dalton in the May 2001 Sailing World. Among other things, Dalton told Fisher that when Club Med was brand new, she wasn't strong enough to sail to the Canary Islands; that the boat suffered very serious structural damage sailing upwind in the Atlantic; and that the boats have to be treated carefully because they are so fragile. Dalton also said that unlike on a Whitbread 60 in which he feels unsafe half the time, they never felt unsafe in the cat, not even "for half a second". He also said that under a genniker in 25 knots of wind, the boat was four knots faster in flat water than if surfing down waves.
---



Congressional Cup

May 3 - Long Beach

We were all over Southern California last week, and fortunately had time to check out the the Long Beach YC's Congressional Cup match racing competition held off the Belmont Pier. According to skipper Rod Davis, the 'Congo Cup' is one of the top ten match racing events in the world, and the last to be sponsored by a yacht club as opposed to corporations. The ten competitors were among the best match racers in the world, most of them representing America's Cup efforts. This was the 37th running of the event, although this is not the reason they sailed in identical Catalina 37s.

We'd never been to a Congo Cup in person, and were totally knocked out by the venue and by the action. If you think watching sailing on San Francisco Bay is great, it is, but watching the Congo Cup from the deck of the Belmont Pier is terrific, too. The starting line is only about 200 feet away, but the nature of match racing often brings the boats to within just yards of the spectators. And there's action unlike what you'll see just about anywhere else. One of the things that makes the Congo Cup so thrilling is that spectator boats are often right in the middle of the action - by intention. Everyone is welcome to anchor in certain areas just to the side of the starting line, and if you do, you can be assured that the competing skippers will be using your boat to try and peel off or block competitors at a frenzied pace. It's nothing for them to come within inches - literally - of spectator boats. In addition, the action is almost non-stop, because there are five races going on at once. Because the goal is not to be the fastest around the course as opposed to just finishing ahead of your competition, there's a tremendous amount of jockeying around on the course, so it's not uncommon for boats in one match to have right of way issues with boats in another match. It's very, very exciting, and you should check it out next year. Oh yes, Peter Holmberg of the Oracle Racing/Golden Gate YC America's Cup challenge came from behind to win again this year.

All Photos Latitude/Richard
---


Safe in Port
May 3 - Santa Barbara

Just to put everyone's mind at rest, after a bout with winds up to 60 knots and seas to 22 feet just south of Point Sur, Profligate and her crew are in Santa Barbara and in good health. A mechanic is looking at the one engine that conked out.
---

Half a Billion Down the Drain
May 3 - Bankruptcy Court

On the way to Sail Expo a couple of years ago, Stan Honey, noted navigator, singlehanded sailor and founder of Sail Mail, said something to the effect that, "People are insane to think that Quokka Sports could be worth half a billion dollars." Quokka, of course, was founded by Aussie America's Cup skipper John Bertrand, and provided Internet coverage of the Whitbread, the America's Cup and other sporting events. Their sailing division closed a short time ago, and just the other day the entire enterprise filed for Chapter 11 bankruptcy in order to sell its assets.
Cruising Web Site of the Day
May 3 - Trinidad

"Jack Dausend has been a big help to me in planning our voyage from Panama to Trinidad," reports Pat Nolan of the Islander 37 No Land, which is currently at Marina Flamingo, Costa Rica. "Jack is an old San Jose Sailing Club member who followed his dream by sailing his Westsail 32 as far as Trinidad. He prints the Trinidad Boater's Directory, a free cruiser newspaper called The Boca, and in general helps cruisers in the area. He also has cruiser seminars on how to prepare and participate in Carnival on Trinidad. Check his site out at www.boatersenterprise.com." We did check it out, and it's terrific.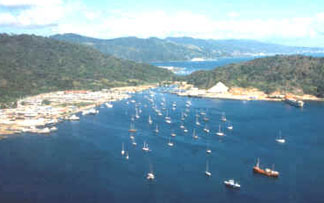 Photo Courtesy www.boatersenterprise.com
---

YOTREPS
May 3 - The Pacific Ocean and Cyberspace
Who is out making passages in the Pacific and what kind of weather are they having? Check out YOTREPS - 'yacht reports' - at http://www.bitwrangler.com/yotreps/
---


Weather Updates
May 3 - Pacific Ocean
San Francisco Bay Weather
To see what the winds are like on the Bay and just outside the Gate right now, check out http://sfports.wr.usgs.gov/wind/.
California Coast Weather
Looking for current as well as recent wind and sea readings from 17 buoys and stations between Pt. Arena and the Mexican border? Here's the place - which has further links to weather buoys and stations all over the U.S.: www.ndbc.noaa.gov/stuff/southwest/swstmap.shtml.
Pacific Sea State
Seas are normal in the Pacific. But you might check out the Pacific Ocean sea states at: http://www.mpc.ncep.noaa.gov/RSSA/PacRegSSA.html.
For another view, see http://www.oceanweather.com/data/global.html.
---
Top
/ Index of Stories / Subscriptions / Classifieds / Home
©2001 Latitude 38 Publishing Co., Inc.