Max Props
May 24 - Napa

The reason we'd gone up the river was to readjust the settings on our three-bladed feathering Maxi Props. We had a Max Prop on Big O for many years, and put two on Profligate when she was launched. Max Props aren't cheap, but they really improve boat performance over a fixed three-blade prop, and we've been very happy with them. In fact, the only problem has been mechanic error.
When you put a Max Prop on your boat, you sometimes have to fiddle with the settings to find the correct one. Too much pitch and your engine lugs. Too little pitch and your boat doesn't move through the water. The problem is you can't change the pitch without hauling the boat out of the water, which is expensive, particularly for big cats. So you darn well better remember your correct setting, and you'd better get it right.
When we hauled Profligate about two years ago, one of our crew members removed and serviced the props. Inexplicably he reassembled the props willy-nilly. So when the boat was launched and both engines were put in forward, one went forward with way too much pitch, the other went in reverse! On the way up from Mexico this year, we hauled Profligate at Channel Islands Boatyard to replace the Saildrives. One of the workers there seemed really familiar with Max Props, so we left them in his hands. When the boat was put back in the water and the engine put in forward, they went into reverse. When put into reverse, they went forward - but not very fast. Once we got the boat hauled again at Napa Valley Marina - for which Channel Islands is graciously picking up the tab - we discovered the cause of the problem. There are two letter settings that have to be made. They got the right letters, but they had them reversed.
In the photos here, Tom List of List Marine is shown getting things straight. Due to the complicated nature of the props, you can see why they can't be changed in the water. Actually, Max Prop now offers a more expensive model that does allow for changing in the water, but they don't fit on boats with Saildrives, such as on our cat and many other sailboats.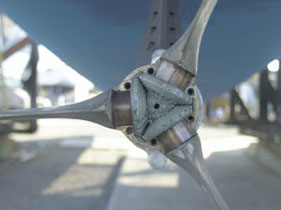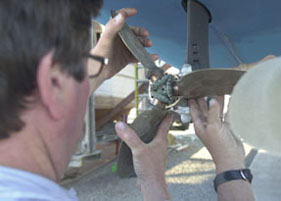 Photos Latitude/Richard