Ala Wai Yacht Harbor to Go Private?
May 22 - Honolulu, Hawaii

You know things are really bad when the Democratic governor of a Democratic state with powerful public employee unions announces that he intends to privatize a government service. But he's not crazy, he's Governor Ben Cayetano of Hawaii, who plans to turn the state's two largest marinas - The Ala Wai in Honolulu, and Keehi Lagoon, closer to the airport - over to private contractors.
Cayetano didn't get hit over the head with a Libertarian lightning bolt, he just read a recent legislature audit that said, "The boating program's mismanagement and neglect have deteriorated harbor facilities to the point where their continued use threatens public safety." That's no exaggeration, as the Ala Wai's docks have been in deplorable condition for years. We've written about it and published photographs a number of times.
The state audit also criticized the state for only charging $4/foot at the Ala Wai Yacht Harbor, where slips are always in great demand. The report noted that the Ko Olina Marina, with a less desirable location, is getting $9/foot, and a few marinas in California are getting almost twice as much. It's a legitimate criticism. Nobody wants to inflict overinflated prices on sailors, but $160/month for a 40-foot slip in Hawaii is ridiculous - as most folks in the Ala Wai will admit. One result is that people rarely give up their slips - even if they gave up boating years ago. If you walk the Ala Wai, you see the same tired, unused boats year after year after year. Another result is that active young sailors are denied a chance to sail and access to the ocean, as there is never room. The Ala Wai is not only terribly rundown, it's one of the most inactive harbors of it's size. If anywhere needs a 'use your boat or lose your slip' program, it's the Ala Wai.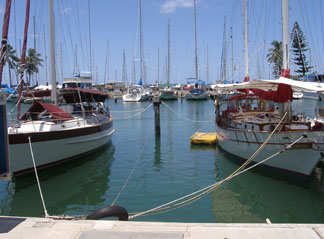 Photo Latitude/Richard
Cayetano is not going completely Libertarian, as he's got a bit of the 'soak the rich to help pay for the poor' scheme in mind. "If we privatize the Ala Wai and Keehi, we believe we can generate enough revenue to upgrade the facilities in the other small boat harbors throughout the state. We are not talking about privatizing the entire system." Given the state's pathetic record of running boating facilities, we think they should start with privatizing the Ala Wai and Keehi - and then privatize all the rest. As expected, some boatowners are in an uproar over what would surely be higher slip fees, and are threatening to go to court. Once the facts are examined, we think they're going to have a very difficult time making a case.