---
Photo of the Day

May 2 - Santa Barbara

This is the Gate at Marina 1 in Santa Barbara. From now on, each time somebody uses their card to get in, the new Harbor Administration can tell who it is and what time they are using it. The Harbor officials say it's to save money. Some marina tenants say it's to keep track of every move harbor tenants make, which they find creepy if not fascist. The new administration is also saying that boat owners won't be allowed to visit their boats more than three nights a week, which strikes some as being far too invasive of personal privacy. The Santa Barbara Slip Holders Association will hold a meeting on May 14 at 7:00 p.m. at the City College to discuss the matter.


Photo Latitude/Richard
---



Oracle Racing Hard at Work, Looking Strong

May 2 - Ventura

On Monday we had the chance to visit Oracle Racing's training compound in Ventura, watch some boat testing, and even be aboard for a short demonstration race between US 49 and US 61. This syndicate - which on Friday announced they'll be sailing under the burgee of the Golden Gate YC - looked solid and together.

Perhaps the biggest news was that Kiwi Chris Dickson, who was slated to be the helmsman, will instead be working as a liaison between the syndicate and designer Bruce Farr. Rather than having a designated helmsman, Oracle now has what's called a "collaborative afterguard" - and a very strong one at that. It includes Paul Cayard, who made it to the Challenger Finals behind the wheel of AmericaOne; John Cutler, who was the helmsman on the surprisingly effective America True; Cup vet Tommaso Chieffi; and Peter Holmberg, who was a part of Dennis Conner's team in the last Cup, and who only the day before had won the prestigious Congressional Cup Match Racing in Long Beach. In addition to a powerful afterguard, the Oracle Team is stocked with veterans from almost every syndicate in the last Cup, many of them Kiwis.

There have been rumors and speculation about the Oracle Racing syndicate, in part because they weren't affiliated with a yacht club for so long, because of a few personnel changes, and perhaps in part due to rumors about Seattle's OneWorld Challenge having money issues. Based on what we saw and heard, anybody who thinks the Oracle Syndicate is hurting in any way has another thought coming. A very relaxed and fit looking Paul Cayard told us it was great they had all their funding in place, and we were later told there was going to be even more good news on that front. Bill Erkelens, head of the syndicate, told us the team was very happy to be in Ventura and was enjoying a great reception. And the facility, boats and support boats all looked top notch. Check out some of the photos.

All Photos Latitude/Richard
---


It's Not Over Until It's Over
May 2 - The California Coast

When Bruce Ladd and his crew delivered the 63-foot catamaran Profligate from Puerto Vallarta back to San Diego, they had an unusually mild trip. Coming up the coast of Baja, they never encountered more than 15 knots of wind or five foot seas. We couldn't help but wonder how long such a streak of good weather luck could last.
We got the answer last night about 9:00 p.m. Ladd and crew were within 30 miles of Pt. Sur - which many California coastal vets consider to be worse than Conception - when they reported being in very strong winds and huge and often breaking seas. The captain of a nearby tug confirmed that the wind was blowing a steady 40 to 50 knots with gusts to 60 knots. The nearby Cape San Martin Buoy indicated that the seas were in excess of 22 feet. As if the bad conditions weren't enough, one engine had gone out and two of the three crew were suffering from seasickness.
We're still not completely sure how the boat ended up in such conditions, as the normal drill when coming up the Central Coast is to proceed step by step from one refuge to the next: 55 miles from Conception to Port San Luis; 20 miles from Port San Luis to - if it's open - Morro Bay. Thirty miles from Morro Bay to San Simeon. Then the big and nasty one - the 70 or so miles from San Simeon past Point Sur to Monterey. The idea is that if the weather turns bad, you never have to retreat too far.
At any event, we and the captain discussed the situation over the telephone, and decided that they should turn and run with the wind and seas. The tricky part with cats is going beam to such enormous seas, if even just for a moment. So we hung on the phone to make sure the maneuver went well. The 180 degree turn came off without a hitch, and powered by windage alone, the boat 'sailed' to leeward at between 5 to 8 knots, depending on where it was on the face of the wave.
By this morning, the wind was down to only 25 knots and the seas just 15 feet. And the crew was feeling better. They are now headed to Santa Barbara to check out the condition of the one disabled engine. A special thanks to the Coast Guard, who monitored their situation on a regular basis throughout the night.
---



Lats at Cats?
May 2 - Catalina Island

We've never distributed Latitude 38 at Catalina, but as of the first of next week, that's going to change. Thanks to Steve Chambless, shoreboat driver in Avalon, and Pam Adams, of the visitor center in Two Harbors, there'll be Latitudes in both places no later than May 10. Say, there's Pam right now.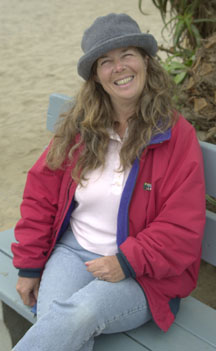 Photo Latitude/Richard
---

YOTREPS
May 2 - The Pacific Ocean and Cyberspace
Who is out making passages in the Pacific and what kind of weather are they having? Check out YOTREPS - 'yacht reports' - at http://www.bitwrangler.com/yotreps/
---


Weather Updates
May 2 - Pacific Ocean
It's rough along the coast!
San Francisco Bay Weather
To see what the winds are like on the Bay and just outside the Gate right now, check out http://sfports.wr.usgs.gov/wind/.
California Coast Weather
Looking for current as well as recent wind and sea readings from 17 buoys and stations between Pt. Arena and the Mexican border? Here's the place - which has further links to weather buoys and stations all over the U.S.: www.ndbc.noaa.gov/stuff/southwest/swstmap.shtml.
Pacific Sea State
Seas are normal in the Pacific. But you might check out the Pacific Ocean sea states at: http://www.mpc.ncep.noaa.gov/RSSA/PacRegSSA.html.
For another view, see http://www.oceanweather.com/data/global.html.
---
Top
/ Index of Stories / Subscriptions / Classifieds / Home
©2001 Latitude 38 Publishing Co., Inc.