---
Photos of the Day

May 15 - Tiburon

Last Friday night, Managing Editor John Riise went out and covered the Corinthian Friday Night Series. This is some of what he saw.

Photos Latitude/JR
---



Biggest Maritime Coke Bust Ever

May 15 - Pacific Ocean

The Coast Guard announced that on May 3, they busted the 152-ft Belize-flagged, Russian-crewed 'fishing vessel' Svesda Maru 1,500 miles south of San Diego. The vessel had drawn suspicion because it didn't have much fishing equipment or fish. What it did have was 13 tons of coke - about $500 million worth - making it the biggest maritime bust ever.

It's common knowledge that drug interdiction efforts in the Caribbean have encouraged smugglers to head to the Eastern Pacific. Since October 1, the Coasties have seized 110,000 pounds of coke at sea, 80% of it in the Eastern Pacific. This is 30% more than they seized in the 12 months before. It's also why the Coast Guard is boarding more cruising boats in the Eastern Pacific, and why you want to keep your nose clean.


A haul of cocaine
Photo PA3 Selvia Olvera


A USCG Cutter and Boarding Party
Photo PA2 Shelly Freier

These photos were provided to 'Lectronic Latitude by the USCG and are used to illustrate the story, but are not necessarily from the specific bust described above.
---



Niue in the News
May 15 - Niue Island

Niue is a small but rocky island in the South Pacific on the way between French Polynesia and Tonga, and has a population of less than 2,000. Unlike most islands in the South Pacific, Niue doesn't have a good place to anchor. That's why they used to have a dog swim out to ships to pick up the mail. Unfortunately, one afternoon a shark had the 'mail dog' for lunch, so now they use a dinghy.
Not wanting to miss out on yachtie traffic through the South Pacific, Niue and the Niue YC have installed 14 moorings, which they rent out for about $2.50 U.S. a day. Commodore Wally Saunders said a record 158 yachts called on Niue last year, and they're expecting even more this year. In fact, they're adding six more moorings. The moorings are pulled up each December, checked out carefully, and reinstalled in April. They're set up to hold yachts to 100 feet.
Niue has an excellent Web site that gives you a great idea of all the things you can do there. But the opening photo (see below), with the babe looking out to sea, gives it an entirely inaccurate sense of glamour. Nonetheless, check it out at www.niueisland.com.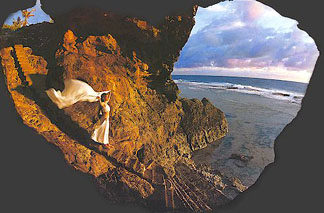 Photo Courtesy www.niueisland.com
---


Dennis Rodman Turns 40 at the Old Josh Slocum's
May 15 - Newport Beach

Even if you're a recluse such as former basketball player Dennis Rodman, you have to celebrate your 40th with a bang. So he had two rock bands and 300 guests show up at his home in Newport Beach. After 50 complaints from neighbors - police have visited Rodman's home more than 70 times already - Dennis moved the party to his new nightclub - the old Josh Slocum's Restaurant.
---


'Lectronic Notes
May 15 - Mill Valley
We've been getting a lot of interest in the second Catnip Cup, an informal rally for cruising multihulls to Vallejo and back. The dates are June 9-10; stay tuned to 'Lectronic Latitude for more details; as soon as we figure them out we'll let you know.
Speaking of 'Lectronic Latitude, we're going to take a hiatus for a few days while we finish up the June issue of Latitude 38. We have an early deadline this month, so that the magazine can hit the streets in time for Memorial Day Weekend. If you're an advertiser and you don't have your ad in for the June issue yet, the time is now!
---

YOTREPS
May 15 - The Pacific Ocean and Cyberspace
Who is out making passages in the Pacific and what kind of weather are they having? Check out YOTREPS - 'yacht reports' - at http://www.bitwrangler.com/yotreps/
---


Weather Updates
May 15 - Pacific Ocean
San Francisco Bay Weather
To see what the winds are like on the Bay and just outside the Gate right now, check out http://sfports.wr.usgs.gov/wind/.
California Coast Weather
Looking for current as well as recent wind and sea readings from 17 buoys and stations between Pt. Arena and the Mexican border? Here's the place - which has further links to weather buoys and stations all over the U.S.: www.ndbc.noaa.gov/stuff/southwest/swstmap.shtml.
Pacific Sea State
Seas are normal in the Pacific. But you might check out the Pacific Ocean sea states at: http://www.mpc.ncep.noaa.gov/RSSA/PacRegSSA.html.
For another view, see http://www.oceanweather.com/data/global.html.
---
Top
/ Index of Stories / Subscriptions / Classifieds / Home
©2001 Latitude 38 Publishing Co., Inc.