---
Photos of the Day

May 14 - Gulf of the Farallones

The crewed Farallones Race was held on Saturday. Latitude 38 was set to cover the always thrilling event like never before. Racing Editor Rob Moore was aboard John Sweeney's former Kiwi America's Cup contender NZL 14; Managing Editor John Riise was aboard Bruce Schwab's Wylie 60 Ocean Planet; and Senior Editor Andy Turpin was out in Latitude's just repaired Bertram 25 photoboat .38 Special. As a result of this extensive planned coverage, the wind never blew more than 10 knots and the ocean was like a pancake. Nonetheless, here are a few shots taken aboard Ocean Planet.

And a few from .38 Special...


Photos Latitude/Andy and JR
---


The Power of 'Lectronic
May 14 - California Coast

Light winds and a flat sea weren't all bad for Latitude, as a delivery crew left Santa Barbara one Saturday morning to bring Profligate up the coast to Sausalito. Some of you may remember that when this trip was attempted two weeks ago, the cat ended up getting into a nasty blow just south of Pt. Sur. Mostly dried out and armed with two new Saildrives, this time the crew encountered about 45 knots less wind and 20-foot flatter seas. Thus it was a rather easy trip - despite an undetermined Saildrive/Max Prop problem that has the throttle directions reversed and the boat's maximum speed reduced by about 25%.
The delivery almost didn't happen, when skipper Bruce Ladd's planned crew had to cancel on Thursday night. Where do you find crew on Friday afternoon to leave Santa Barbara the next morning on a trip up the coast? Scores of telephone calls on our part and that of many friends resulted in nothing. But the following notice - "Thanks to a couple of last minute cancellations, there are a couple of spots open to help deliver Latitude's 63-foot catamaran Profligate from Oxnard to Monterey and/or San Francisco this weekend. If you're interested, call Bruce immediately at (650) 814-7486. And yes, we know it's Mother's Day on Sunday" - in the Friday 'Lectronic resulted in six or seven calls, and four crew boarding the boat just hours later in Santa Barbara. Thanks crew, and thanks 'Lectronic.
As you probably noticed, we're now accepting ads for 'Lectronic Latitude - such as the one on our index page for the Webware Corporation, which is looking for high tech employees at their growing Sausalito-based business. The introductory price is $50 per day, for which you'll immediately get several thousand readers. It's good if you're looking for employees, trying to find crew, trying to sell a boat - anything where you need to get a message out quickly and effectively.
---


Celestial or not Celestial?
May 14 - Bermuda

For the few who haven't heard, longtime Southern California sailor Tom Leweck publishes the online 'Scuttlebutt' - "a digest of yacht racing news of major significance; commentary, opinions, features and dock talk with a North American emphasis" almost every day. One of the topics of interest of late has been the TransPac YC's requirement that at least one member of the crew know celestial navigation. Scuttlebutt reader Larry Pierce made the following comment:

"Is the celestial navigation requirement really a safety issue or is it a bit of technology envy? C-Nav is about as relevant as an RDF. It is difficult to learn and grasp conceptually, and is terribly inaccurate compared to GPS. It is far more likely that there will be nothing visible to take a sight than for all of the satellites to stop transmitting. As a competitor in the Bermuda 1-2, I was required to learn C-Nav and it was one of the greatest hurdles to being in compliance. Once learned, it was very rewarding and satisfying to know... and pretty darned useless. My best sight put me three miles from my actual position and lots of time to get it. GPS has never failed me in nine years, and for the price of an inaccurate plastic sextant, I have two spare GPS units that put me 50 feet from actual position in seconds.

"This year's Bermuda 1-2 brought the same lively discussion on whether C-Nav should be required. My initial reaction was yes, of course it should be required for safety and backup. After much discussion it became clear to me that the motivation for requirement was so that new competitors should have to overcome the same hurdles I did. It really has nothing to do with safety or navigation. Is tradition used as an excuse for the older generation to stick it to the younger? Let's check ourselves to see what our real motivations are for this requirement."
Larry, who could have said it better? Ironically, the next letter on the subject in 'butt was from Latitude staffer John Arndt - who praised the requirement!
For a free online subscription to Scuttlebutt, send a blank email.
If you're never read Scuttlebutt, check out [email protected].
---



On Again, Off Again Romance
May 14 - New Zealand

From one day to the next, there's been different news about whether German software giant SAP was or was not going to be one of five sponsors for the New Zealand America's Cup effort. It's now final, in return for giving an unspecified number of millions to the Kiwi effort, SAP will get their name on Kiwi chutes and other advertising value.
What makes this interesting is that SAP is the third biggest software company in the world, and that its biggest shareholder is Hasso Plattner, the owner of numerous racing sailboats named Morning Glory. The second biggest software company in the world is Oracle, owned by Larry Ellison. Oracle and SAP are bitter rivals in similar software markets, and Ellison and Plattner are equally big rivals in sailboat racing. That's only going to increase as the Cup gets closer. Microsoft, of course, is the biggest software company in the world. Bill Gates, the biggest shareholder, is said to own a small Bayliner motorboat. Co-founder and nearly as big a shareholder Paul Allen owns the 200-foot motoryacht Meduse, seen in the accompanying photo with the chopper on top.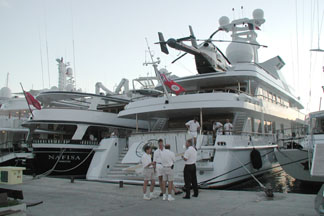 Photo Latitude/Richard
---

YOTREPS
May 14 - The Pacific Ocean and Cyberspace
Who is out making passages in the Pacific and what kind of weather are they having? Check out YOTREPS - 'yacht reports' - at http://www.bitwrangler.com/yotreps/
---


Weather Updates
May 14 - Pacific Ocean
San Francisco Bay Weather
To see what the winds are like on the Bay and just outside the Gate right now, check out http://sfports.wr.usgs.gov/wind/.
California Coast Weather
Looking for current as well as recent wind and sea readings from 17 buoys and stations between Pt. Arena and the Mexican border? Here's the place - which has further links to weather buoys and stations all over the U.S.: www.ndbc.noaa.gov/stuff/southwest/swstmap.shtml.
Pacific Sea State
Seas are normal in the Pacific. But you might check out the Pacific Ocean sea states at: http://www.mpc.ncep.noaa.gov/RSSA/PacRegSSA.html.
For another view, see http://www.oceanweather.com/data/global.html.
---
Top
/ Index of Stories / Subscriptions / Classifieds / Home
©2001 Latitude 38 Publishing Co., Inc.