---

SUN MICROSYSTEMS AUSTRALIA CUP

March 27 - Australia

Peter Gilmour and his Pizza La Team, representing the OneWorld America's Cup challenge, has won the Sun Microsystems Australia Cup for a record fifth time. The Perth born and bred skipper made it look easy, as he demolished Gavin Brady sailing for Italy's Prada Challenge, in two straight races. His performance is a benchmark in the eighteen year history of the event, winning 25 races from 26 starts over the five days. Brady has lost for the second time in two weeks, having also gone down to Frenchman Bertrand Pace in Auckland's Steinlager Line 7 regatta just a week ago.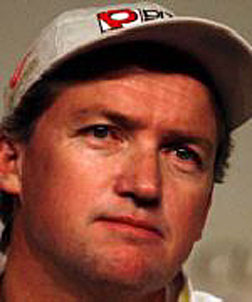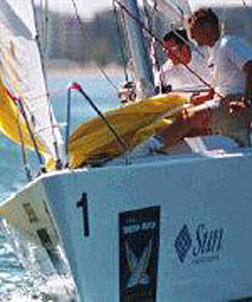 Peter Gilmour, Gran Prix Sailing in Perth
Photos Courtesy Allsport

Ken Read, from Team Dennis Conner's Stars & Stripes challenge, sailing his first grade-one event, took third place after a close conflict with Magnus Holmberg, who finished fourth for the second week in a row. However, Magnus Holmberg is consoled by the fact that he still heads the leaderboard in the Swedish Match Grand Prix sailing tour.
There are three events remaining in the Year-Two Event Schedule of the Swedish Match Grand Prix tour:
--- May 24-30 ACI Cup of Croatia in Split, Croatia
--- May 31-June 4 Match Race Lake Constance, Germany
--- July 2-8 Swedish Match Cup in Marstrand, Sweden
RESULTS: 1. Peter Gilmour (USA) 2. Gavin Brady (ITA) 3. Ken Read (USA) 4.
Magnus Holmberg (SWE) 5. Luc Pillot (FRA) 6. Chris Dickson (USA) 7.
Jes-Gram Hansen (DEN) 8. Neville Wittey (AUS) 9. Jesper Radich (DEN) 10.
James Spithill (USA) 11. Andy Beadsworth (GBR) 12. Nicola Celon (ITA)
Swedish Match Grand Prix sailing tour scores after five events: 1. Magnus
Holmberg (SWE) 80; 2. Bertrand Pace (NZL) 49; 3. Peter Gilmour (USA) 45; 4.
Gavin Brady (ITA) 40; 5. Ed Baird (USA) 36; 6. Chris Dickson (USA) 34; 7.
Sten Mohr (DEN) 32; 8. Peter Holmberg (USA) 27.
For more details see the event Web site: www.rpyc.com.au
and the Swedish Match Tour Web site: www.swedishmatchgp.com



---



And The Race Goes On...

March 27 - The Atlantic Ocean

At 03:00 GMT on Monday, Bullimore and his boys had a 141 mile advantage in terms of distance to Marseille, but are 72 miles south of Warta-Polpharma's latitude and have still to cross through the Doldrums which could slow them today. The disadvantage for the Poles is that they are 390 miles to the west of Team Legato and facing head winds."In effect, we are neck-and-neck," said Bullimore earlier. "This could be a really close race all the way across the Atlantic and I can see us finishing in Marseilles on 7th or 8th April almost together."

Another leveller is the fact that the Poles have had to leave two of their number ashore after Richard Block and Piotr Cichocki failed medical tests. The Team Legato crew have been four short since setting out from Wellington, New Zealand a month ago. According to St James's Yachting, Team Legato's weather routers, the Doldrums, that area of calms that divide the north and south trade wind belts and stretch right across the Equator are currently between 01 and 01:30'N but it will not be until they reach 04 N that Bullimore & Co can expect the 15-17 knot NE Trades to kick in properly. Their only advantage is that they currently hold a 330 mile upwind advantage.

Positions at 0300 GMT 26 March 2001:

1. Club Med Finished Marseille 19:56GMT 3.03.01
2. Innovation Explorer Finished Marseille 11:32GMT 6.03.01
3. Team Adventure Finished Marseille 09:30GMT 24.03.01
4. Team Legato +3,193 miles - Crossed Equator 25.03.01
5. Warta Polpharma +142 miles - Left Fortaleza 24.03.01
6. PlayStation - RETIRED 14.01.




Photos Courtesy Gazet Beskid
http://beskid.com
---
Pacific Puddle Jump
March 27 - Nuevo Vallarta
On Friday, we began a series of profiles on the Pacific Puddle Jump class of 2001 - cruisers making the jump from Mexico to the Marquesas. We'll have more in tomorrow's 'Lectronic, and you'll find all of them in the pages of the April issue of Latitude 38.
Illusion - Custom 36-ft cutter
Bob & Cary Deringer, Bellingham, WA

"Before we left, a friend told us, 'There are only two things you need to know:
1) Don't hit anything hard and 2) you can get used to anything.'" During their year of cruising thus far, they've found those warnings to be pretty astute and have developed a few profundities of their own: "The only thing you really need is a seaworthy boat and a safe and positive attitude - a little luck never hurts either."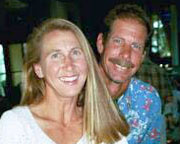 Photo Latitude/Andy
Having sailed for many years prior to heading south, Bob and Cary had a pretty good idea what the cruising life was like, but there were some pleasant surprises. "We've really been impressed with the strength and closeness of the cruising community: meeting people from different countries, learning to become more flexible in our day-to-day lives. And we've come to appreciate the 'wealth' of having a simple life." They hope to complete a 'westabout' circumnavigation, but are in no particular hurry.

Cary, by the way, is an accomplished nautical journalist. We hope she'll share her insights in our pages in the months to come.

Irish Melody - C&C Landfall 38
Dave & Linda Allen, Santa Rosa, CA
If you were lucky enough to sail in Baja Ha-Ha III, you may remember Dave and Linda. Here's an excerpt from our bio on them from that 1996 event: "If you're out on the ocean and you hear a lively jig floating on the wind, don't assume you're being followed by the miniature mountain men from Darby O'Gill and the Little People. It's probably only Dave sawing away on his fiddle."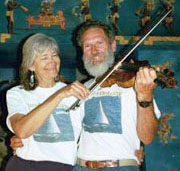 Photo Latitude/Andy
He and Linda have been fiddling around in anchorages all along the Mexican mainland and up into the Sea of Cortez. "We came to Mexico for one season and stayed for six," admits Linda. "The families we've met, from La Paz to Palenque, have been caring, wonderful people that we will miss -- and we plan to return someday."

During their stay, they've been annual volunteers on the humanitarian homebuilding project at Chacala and have explored many inland regions of the country -- a practice they highly recommend. "Travel to inland Mexico is like visiting a different planet after coastal cruising." Taking a different tack on the typical SoPac cruising plan, they expect to do a slow South Pacific circuit over 3 to 5 years, flying home to California during the cyclone season.
---

YOTREPS

March 26 - The Pacific Ocean and Cyberspace

Who is out making passages in the Pacific and what kind of weather are they having? Check out YOTREPS - 'yacht reports' - at http://www.bitwrangler.com/yotreps/
---


Weather Updates
March 26 - Pacific Ocean
San Francisco Bay Weather
To see what the winds are like on the Bay and just outside the Gate right now, check out http://sfports.wr.usgs.gov/wind/.
California Coast Weather
Looking for current as well as recent wind and sea readings from 17 buoys and stations between Pt. Arena and the Mexican border? Here's the place - which has further links to weather buoys and stations all over the U.S.: www.ndbc.noaa.gov/stuff/southwest/swstmap.shtml.
Pacific Sea State
Seas are normal in the Pacific. But you might check out the Pacific Ocean sea states at: http://www.mpc.ncep.noaa.gov/RSSA/PacRegSSA.html.
For another view, see http://www.oceanweather.com/data/global.html.
---
Top
/ Index of Stories / Subscriptions / Classifieds / Home
©2001 Latitude 38 Publishing Co., Inc.