and on the Bay...
Wheeler Regatta
March 26 - San Francisco Bay
The Berkeley Yacht Club hosted buoy racing on Saturday for three PHRF divisions and the Merit 25 class, and a pursuit race on Sunday for 25 boats. Winners on Saturday included Mirador, Antrim 27, Charles Griffith; Zilla, B-25, Brent Draney; Latin Lass, Catalina 27, Bill Chapman; and Twilight Zone, Merit 25, Paul Kamen. Sunday's pursuit race was won by Shenanigans, C&C 36, Mike Maloney.
Rites of Spring
March 26 - San Francisco Bay
This Saturday, Oakland Yacht Club hosted the Rites of Spring. Coming out on top in five doublehanded divisions were Donnybrook, F-28R, John Brady; Lelo Too, Tartan 30, Emile Carles; Sylkie, WylieCat 30, Steve Seal; Shazam!, Santana 22, Bud Sandkulla; and Annie, Cal 29, Steve Zevanove. Only one boat raced in the singlehanded division, Polar Bear, Antrim 27, Richard Ray.
For more complete box scores on these regattas and much more Bay Area racing results and news, see the Racing Sheet in April's Latitude 38.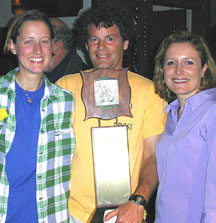 Merit 25 winner Paul Kamen, with crew Gabi Zurek of Germany and Esther de Frutos of Madrid, displays the City of Berkeley Trophy
Photo Courtesy Paul Kamen