---

Photo of the Day
March 19 - Alameda

"Hope you're having a better day than this 1998 Honda Civic," writes Hollis March of the Jack London Square-based Triumph. "It was pulled out of the water at the Grand Marina launching ramp at 11:00 am on Sunday. It seems that persons unknown stole the Honda and eventually ditched it in the Estuary. When it was discovered, it was about 10 feet under almost at the end of the pier. Every once and a while the poor car would let out forlorn burst of bubbles to mark its location. Finally, a diver was recruited to hook up a tow cable, and out she came - with a log floating out of the open window. As the car had explored the depths for several hours, it's unlikely she'll run again."


Photo Hollis March
---
Doublehanded Farallones
March 19 - Gulf of the Farallones
A fleet of 121 entries enjoyed mellow sailing conditions for Saturday's 22nd BAMA Doublehanded Farallones Race. Enjoying the luck of the Irish, Jim Antrim finished first in his Antrim 30+ trimaran Erin. Carl Nelson was first back with his Sydney 38 Fair Dinkum. For details, check out the April edition of Latitude 38.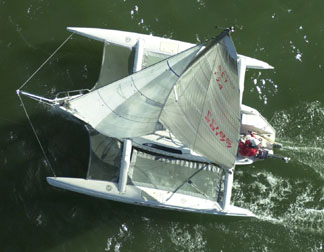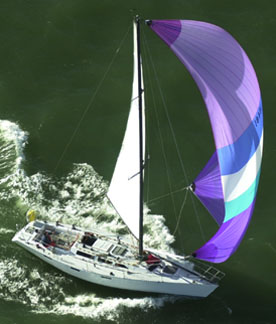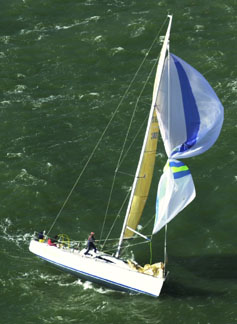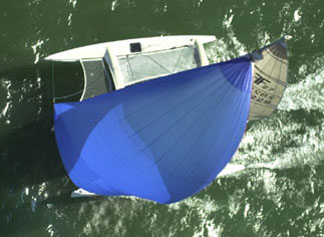 Photos Latitude/JR
---

The Race
March 19 - Atlantic Ocean

After a week of slow program, Cam Lewis and Team Adventure are back up to speed again. Currently 1,800 miles out, they should finish in Marseille on March 23. Warta Polpharma is 3,000 miles from the finish. Team Legato has 4,950 miles to the finish, and it's nip and tuck whether she'll make it before the deadline.
NEW'S FLASH! The Polish entry Warta Polpharma, the old Explorer, has had to drop out because of boat damage. According to crewman Dariusz Drapella, the catamaran suffered damage to her port bow on Sunday, and inspection showed that a large crack had developed around the port bow some two meters forward of the main beam. The crew were not sure if they hit something in the water or the damage had culminated from the fierce head seas that they had encountered. The good news is that the Poles are safe, and have managed a make-shift repair using carbon and epoxy resin carried by all these boats for just such an emergency. They are now heading for Fort Alexa, Brazil, some 700 miles to the southwest.



---


PlayStation to Return to Action
March 19 - Atlantic Ocean

Having undergone several months of repairs and minor modifications since dropping out of The Race, Steve Fossett's 125-foot maxi catamaran PlayStation is about to return to action. Shortly after May 1, the big cat will go after Explorer's 2-day, 22-hour, record from Miami to New York. This will be a warm-up for an assault on the west to east transatlantic record of 6 days and 13 hours set 11 years ago by Serge Madec in Jet Services, the former Explorer before she was lengthened. Given good winds, PlayStation should crush both these records. It's going to be a busy time in the Atlantic this summer, as there are going to be a number of mono and multihull attempts on the records.
---


Earthquake Aid
March 19 - El Salvador
| | |
| --- | --- |
| This is what it looked like in El Salvador recently after several strong earthquakes rocked that country, killing hundreds and destroying thousands of homes. Cruisers at Marina Barillas, El Salvador, have been helping as best they can in the Barillas Relief Project. Read the April Latitude to find out what they are doing and how you might be able to help. | Photo Doug Decker |
---


YOTREPS
March 19 - The Pacific Ocean and Cyberspace
Who is out making passages in the Pacific and what kind of weather are they having? Check out YOTREPS - 'yacht reports' - at http://www.bitwrangler.com/yotreps/
---


Weather Updates
March 19 - Pacific Ocean
San Francisco Bay Weather
To see what the winds are like on the Bay and just outside the Gate right now, check out http://sfports.wr.usgs.gov/wind/.
California Coast Weather
Looking for current as well as recent wind and sea readings from 17 buoys and stations between Pt. Arena and the Mexican border? Here's the place - which has further links to weather buoys and stations all over the U.S.: www.ndbc.noaa.gov/stuff/southwest/swstmap.shtml.
Pacific Sea State
Seas are normal in the Pacific. But you might check out the Pacific Ocean sea states at: http://www.mpc.ncep.noaa.gov/RSSA/PacRegSSA.html.
For another view, see http://www.oceanweather.com/data/global.html.
---
Top
/ Index of Stories / Subscriptions / Classifieds / Home
©2001 Latitude 38 Publishing Co., Inc.