---

Photos of the Day

March 16 - La Cruz, Mexico
It takes all kinds of folks to make up this crazy world - and the cruising community. While some folks wait until they have the perfect boat with a full complement of gear and gadgetry, others simply 'go with what they've got'. This jovial Canadian aboard this Wharram catamaran is a good example of the latter. As the bright pastel tones of his boat imply, he obviously has plenty of spirit - and a tent. When we crossed paths with him in the La Cruz, Mexico anchorage last month, he'd been cruising for six months. And seemed perfectly content to continue in that manner.




Photo Latitude/Andy
---
The Race

March 16 - The Atlantic Ocean

As The Race winds down, there are some interesting developments. For Tony Bullimore and Team Legato some 5,700 miles from the finish, it's nip and tuck whether they're going to get home within the time limit to be an official finisher. They did 321 miles two days ago, but slipped to just 216 miles yesterday. They need to average 319 miles a day to make the cut-off, which is a month after the first boat finished.

There's a problem of a different sort on Warta Polpharma, which is 3,539 miles to the finish at Marseilles. They are quickly running out of food. Armies travel on their stomachs, and to a large extent, so do racing crews. Will the crew be able to get by on minimum rations?

Cam Lewis and Team Adventure are 2,300 miles from the finish, and currently don't have any worries about food or finishing on time. In fact, Cam has enough time to remind everyone that he's looking for two school teachers to join Team Adventure this summer when they take the 110-foot cat on the Route of Discovery transatlantic passage that retraces Columbus' route from Cadiz, Spain, to San Salvador in the Bahamas. The 3,885 mile passage should be a great one. For details, view the job listing at www.monster.co.uk and use the search words "schoolteachers ahoy". The closing date for applications is Monday, March 19 - thanks for the long warning - so get on it.


Photo Gilles Martin-Raget
---

America's Cup History

The year was 1987, the place was Fremantle, Australia, and the event was the Louis Vuitton America's Cup Challenger Finals between Dennis Conner of the U.S. and Chris Dickson of New Zealand. Dickson had been so invincible with KZ-7 Kiwi Magic - they were sailing 12 meters back then - that Conner suggested the boat could have only been built of fiberglass because the Kiwis wanted to cheat. All the other 12s that year had been built of aluminum. Naturally, the New Zealanders were outraged.

Conner won the first two races in strong winds that suited his boat. But in the third race, Dickson got the light conditions he needed. Taking advantage of a spinnaker shackle that opened on Conner's boat, he took a six second lead. On the next three 3.5-mile weather legs, Conner tacked 35 times, 24 times, and 53 respectively to try to catch up with Dickson. Dickson nonetheless gained on each leg to claim perhaps the most hard-fought challenger final races ever. Alas, Dickson never won again, and Conner went on to beat the Aussies and bring the Cup back to the United States. But hey, that's yacht racing.

---




Heineken Regatta

March 16 - St. Maarten

One of the unique features of the St. Maarten Heineken Regatta held early each March is that they get a number of tallships to participate in the racing. Which, of course, gives guys like the dude in black the chance to let the women do the heavy lifting.






Photo Latitude/Max Ebb
---
Spring Has Sprung
March 16 - San Francisco Bay

With the good weather back, Latitude's photoboat and photographers were
out on the Bay last Sunday. Here is some of what they saw: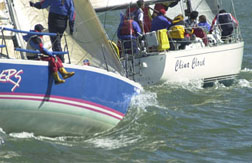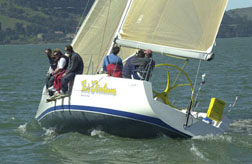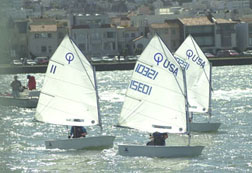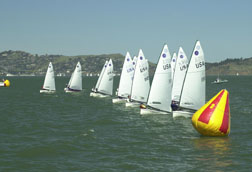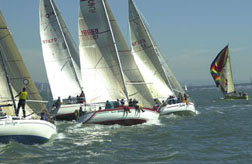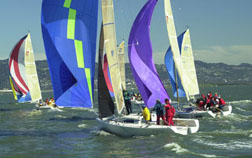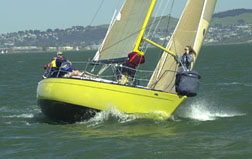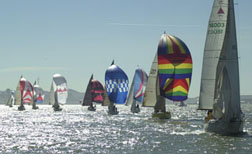 Photos Latitude 38
---


YOTREPS
March 16 - The Pacific Ocean and Cyberspace
Who is out making passages in the Pacific and what kind of weather are they having? Check out YOTREPS - 'yacht reports' - at http://www.bitwrangler.com/yotreps/
---


Weather Updates
March 16 - Pacific Ocean
San Francisco Bay Weather
To see what the winds are like on the Bay and just outside the Gate right now, check out http://sfports.wr.usgs.gov/wind/.
California Coast Weather
Looking for current as well as recent wind and sea readings from 17 buoys and stations between Pt. Arena and the Mexican border? Here's the place - which has further links to weather buoys and stations all over the U.S.: www.ndbc.noaa.gov/stuff/southwest/swstmap.shtml.
Pacific Sea State
Seas are normal in the Pacific. But you might check out the Pacific Ocean sea states at: http://www.mpc.ncep.noaa.gov/RSSA/PacRegSSA.html.
For another view, see http://www.oceanweather.com/data/global.html.
---
Top
/ Index of Stories / Subscriptions / Classifieds / Home
©2001 Latitude 38 Publishing Co., Inc.