Help! Thousands of folks are checking out 'Lectronic Latitude each day, but it would help us tremendously if we knew what parts of 'Lectronic you like and/or don't care for. If you send a very short email to Richard, it would be much appreciated.
---

Pacific Puddle Jumpers Head West
March 13 - Puerto Vallarta

It seems like everybody's doing it! Setting sail for the South Pacific, that is. At least forty -five sailboats will be jumping off this month from Puerto Vallarta alone. We had the pleasure of getting to know most of them last month at a spirited kick-off party (co-hosted by Latitude 38 and Paradise Village) at the Paradise Village Resort . Check out the April issue of Latitude to read all about them.

During their crossing, these vessels will participate in the Odyssey 2001 Radio Net at 1700 zulu time daily; frequency: 8,207; alternate frequencies: 8,173 or 8,216.


Photo Latitude/Andy
---

Gunfire in Piracy Attack
March 13 - Off Yemen

Geoff and Chrissie Linter of the British registered catamaran Ocean Swan report that they, as well as the British yachts Mi Marra and Shady Lady, were attacked by pirates on February 23 while enroute from Yemen to Djibouti in the Gulf of Aden. Here's an edited version of their report:
"The two of us aboard Ocean Swan, while towing Shady Lady and with Mi Marra about a mile away, were en route from Mukalla in Yemen to Djibouti on February 23. Just after dawn, while approximately 6 miles offshore at 13°48' N and 48º13' E, we were being passed by three 30-foot open boats about a mile off on our starboard side. When the boats had pulled abeam, all three approached Ocean Swan at speed. One vessel opened fire with automatic rifles, causing damage to Ocean Swan's foresails, furling gear and rigging. The boat firing on Ocean Swan came alongside in a manner that caused damage to the yacht's topsides. One of the other vessels came alongside briefly, then it stood off a short distance. The third vessel went alongside Shady Lady, the sailboat we were towing.
"Three men with automatic weapons and knives boarded Ocean Swan and demanded that we stop. The leader of the group, a fit man about 5'7" wearing tan clothing that looked as though it may have been a uniform, entered the cabins demanding money from Geoff while another man held a knife to Chrissie. After they were given all the money onboard, they proceeded to ransack the boat, taking cameras, radios, bikes, cigarettes, binoculars and other items of value. After approximately one hour, they were persuaded to leave. Neither of Ocean Swan's crew were physically harmed. Paul Hawton of Shady Lady reports that pirates took $50 and a VHF radio from him. Nobody was physically harmed on his boat. Mi Marra, about a mile ahead, was not boarded or directly attacked.
"The open vessel used to come alongside Ocean Swan was 25 to 30 feet long, wide, old, diesel powered, poorly maintained, and had wooden fencing stakes around the boat to support cargo. It had a flat stern with an outboard rudder. There was no evidence of extra fuel being carried on deck, making us suspect it was a local boat with limited range. The other two were similar in appearance and construction. There were a total of five men aboard the boat that attacked Ocean Swan. Other than the leader, they were about 20, although the youngest may have been 16. The man from the second boat, who boarded Shady Lady, wore Yemeni attire. All of the pirates appeared to be from Yemen.
"After the pirates left, many attempts were made to raise the alarm. Mayday messages were broadcast by Ocean Swan on all known SSB distress frequencies, but no reply was received. After some time, a message was relayed by other yachts to Salalah Port Control in Oman. Later in the day, a message about the incident was sent to Mukalla Port Control. We continued through the night to try get a message to Aden Port Control, but without success.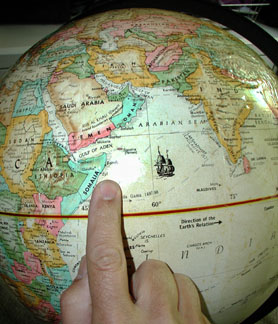 Photo Latitude/Richard
"There has been such a fuss here over the incident, that we were afraid it might have been reported in the international press, and that all our family and friends would be sick with worry. We are, however, fine. We lost some equipment to the thieves, and had some minor damage to the boat, but all is well on board. We arrived in Aden in the middle of last night to file a report, and have been treated very well. We were able to contact friends shortly after the attack, and they were able to make a preliminary report to the authorities and to send up an Inmarsat distress signal. From then on all hell broke loose, and the various authorities, the British Consulate, and the French Navy were all notified. News spread like wildfire on the radio. We now have a day of visiting all the authorities, filing reports and trying to calm everyone down. We will probably get stuck here in officialdom for some days, but hope to escape soon to continue the trip. We want to stress that we are fine, and that apart from the loss of possessions we are none the worse for wear. We have had tremendous support from the yachting community, and a good response from the authorities. People have been so kind that we have been knocked out."
For the last several years, by far the worst piracy against yachts at been on the approach to and in the Gulf of Aden, which yachts must pass to get to the Red Sea and then the Med. Prior to the attack, yachts have been convoying to discourage attack. But as this most recent attack was against three boats, the pirates are clearly not afraid of taking on more than one boat at a time.
---

The Race
March 13 - The Atlantic

Cam Lewis and Team Adventure are steaming up the Atlantic, having covered nearly 600 miles in the last 24 hours. They are expected to finish on March 23 or 24.
---
Where Are They Now?

March 13 - Fiji

We recently stumbled across this photo of the Pimentel family aboard their sloop Azure a couple of years ago in Fiji. Anybody know where they are and what they're doing now?


Photo Courtesy Azure
---

Crunch in the Canal

March 13 - Panama

Because of space limitations, we won't have John Pearlman's report - on how his Sausalito-based Islander 37 Nepenthe was dismasted and crunched in the Gatun Lock of the Panama - until tomorrow.
---

YOTREPS
March 13 - The Pacific Ocean and Cyberspace
Who is out making passages in the Pacific and what kind of weather are they having? Check out YOTREPS - 'yacht reports' - at http://www.bitwrangler.com/yotreps/
---


Weather Updates
March 13 - Pacific Ocean
San Francisco Bay Weather
To see what the winds are like on the Bay and just outside the Gate right now, check out http://sfports.wr.usgs.gov/wind/.
California Coast Weather
Looking for current as well as recent wind and sea readings from 17 buoys and stations between Pt. Arena and the Mexican border? Here's the place - which has further links to weather buoys and stations all over the U.S.: www.ndbc.noaa.gov/stuff/southwest/swstmap.shtml.
Pacific Sea State
Seas are normal in the Pacific. But you might check out the Pacific Ocean sea states at: http://www.mpc.ncep.noaa.gov/RSSA/PacRegSSA.html.
For another view, see http://www.oceanweather.com/data/global.html.
---
Top
/ Index of Stories / Subscriptions / Classifieds / Home
©2001 Latitude 38 Publishing Co., Inc.