| | |
| --- | --- |
| | |
---
Photos of the Day

June 8 - Juneau, Alaska

The Photos of the Days are 'northern exposures'. "As you might remember," writes Jeff Coult of the Alameda-based Landfall 39 Northern Exposure, "after spending last summer exploring southeast Alaska, I decided to leave the boat in Juneau for the winter so I could return home to work, then continue exploring Alaska the following summer. The fact that I got a slip in downtown Juneau for $70 a month and escaped the tax man in California helped validate my decision. After a very mild winter here, I returned to find the boat none the worse for the winter weather. It took about a week to re-commission the systems that had been winterized. The water system was purged of the non-toxic anti-freeze; the fuel tanks were cleaned (a very easy job due to the large clean-out ports), the sails taken out of storage and hanked on (since my friend Dave took responsibility for this job, I didn't have to suffer the embarrassment of hoisting them upside down like I did last year), and the bottom cleaned and the lockers scrubbed. One of the advantages of the huge tides - up to 20 feet - we get here is that most harbors have a grid system that allows you to float your boat onto a fixed system of timbers at high tide, tie up to vertical pilings, and then wait for low tide to set your boat gently down on the grid mat. The result is a free haul-out - albeit a pretty short one.

"After getting the boat in order, Dave and Annette - friends from Alameda - arrived and our cruising season began. My desire was to give them the most awesome Alaskan experience possible in a short amount of time, and the Tracy Arm / Fords Terror area fit the bill perfectly. This is some of what they saw."

Photos Courtesy Northern Exposure
---
Fewer Berths for the Bay

June 8 - Marin Headlands

This is lovely Horseshoe Cove near the north tower of the Golden Gate Bridge. Formerly owned by the military, it's now in the hands of the Golden Gate National Recreation Area. They've got plans for a huge convention center on the site, which has the city of Sausalito up in arms and threatening to sue. And as we understand it, the GGNR hopes to remove all the slips. Seems odd, doesn't it, given the lack of berths in the Bay and the lack of places where marinas could be built.


Photo Latitude/Richard
---
Another Delay in Richardson Bay

June 8 - Sausalito

During a meeting yesterday afternoon, the BCDC postponed taking action on a plan that would seek to eliminate 89 boats - 39 of them liveaboards - anchored out in Richardson Bay. Postponement is nothing new, as the boats have been in direct violation of BCDC regulations for about 25 years. And if Ellen Sampson, BCDC Staff Attorney, is to be believed, the proposed strategy is not to actually kick anybody out, but simply not to permit any new liveaboards or additional boats. Attrition is supposed to take care of the rest. The many protesters who showed up at the meeting were given until August 9 to come up with an alternative plan. In our opinion, if the BCDC wasn't quite so inflexible and had a better understanding of mariners, and if the anchor-outs weren't so adverse to any cooperation, this whole thing could be settled quickly and smartly. But we don't expect that to happen anytime soon.
---

Sea of Cortez Sailing Week Was Great!
June 8 - La Paz, BCS

"The gossip before, during and after Sea of Cortez Sailing Week has swirled faster than the waters during the La Paz Waltz," reports Scott (no last name) of Ebby (no boat type or hailing port given). "Stuck in La Paz waiting for a new head gasket, we decided to check out Sailing Week, something we'd normally avoid. We became part of the erection committee, made our run to CCC for supplies, then sailed out to Partida. What a great experience! We met wonderful people, cooked, ate, drank, did crafts with the kids - and I even raced! The only hiccup was that of Mother Nature capsizing the Tecate tents of Paradise Found. Kudos are in order for Marilyn of FantaSeas, who stepped up to the plate and MC'd the event. She's the bomb! My thoughts for the future of the event? Less talk and more action."
---
What's That Growth?

June 8 - San Francisco

While passing by the St. Francis YC the other day, we saw this unusual looking sloop - with an unseen mast of prodigious rake - tied up at the club's docks. Anybody know what the deal is with the unusual mast step? It's the first one we've seen with its own ports.


Photo Latitude/Richard
---

How Many Firemen Does It Take to Put Out a Catalina 30?
June 8 - San Diego
"My new rule is to never leave the dock without a camera," writes Michael Fitzgerald of Sabbatical, Latitude 38's official roving reporter in Southern California for the summer. "After getting our new Ricochet modem going today, we went for a dinghy ride and came upon a sailboat on fire at the San Diego YC docks. Unfortunately, we didn't bring a camera, because it was to be just a short dinghy ride. So how any fireboats does it take to put out a Catalina 30? Two, with about 10 firemen. The fire turned out to be mostly smoke from an electrical short, but it was pretty spectacular for a few minutes. Across the head of the dock from the smoking Catalina sloop were about six mega-yachts, probably worth several million each. The San Diego YC officials looked pretty nervous. I bet they were checking the Catalina 30's insurance policy as they dialed the Fire Department.
By the way, we seem to have fallen right into a true cruiser's club here at the Silvergate YC. Virtually everyone has been to Mexico or is going in the fall. Last night's party after the beer can races had about 200 people in the clubhouse swapping yarns, too. Great fun."
---

Who Needs a Headstay in the TransPac?
June 8 - Pacific Ocean
The TransPac Yacht Club has voted to waive an IMS rule and permit competitors to temporarily unfasten the headstay when jibing a spinnaker downwind so as to allow the pole to be moved to the new windward side, reports Rich Roberts. If a boat were sailing upwind, of course, the mast would fall down. "It sounds scary, but it makes a lot of sense," said Dale Nordin, a director and TransPac veteran. "It would be safer than taking the butt end of the pole off the mast and risking a serious injury to someone."
Many ocean racers are using longer spinnaker poles these days. Longtime TransPac campaigner Bob Lane said the pole on his modified Andrews 61 Medicine Man extends nine feet beyond the headstay. "It's actually safer to remove the headstay," Lane said. "It's only off for 10 or 15 seconds and we aren't jibing during that time." As a safety precaution, Lane said, his crew attaches two halyards on opposite sides of the bow during the maneuver, then removes the fastpin securing the headstay. "Those are strong enough to hold up the mast if something should go wrong," he said. "If you do it right, the pole doesn't even move. You just move the headstay, which is slack anyway, to the other side of the pole. We have done it in 30 to 35 knots of wind." See www.transpacificyc.org for all the TransPac details.
---

Aloha on eBay
June 8 - Pt. Richmond
Spotted on the Internet auction site eBay, Oracle Racing's IACC boat Aloha.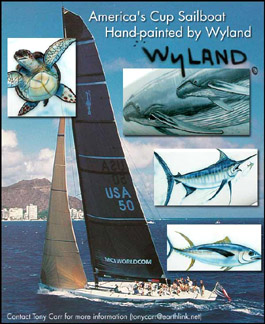 Bidding this morning was at $125,000. eBay's description reads, "78-foot Wyland hand-painted Americas [sic] Cup Sailboat for Sale. Sailed in the 2000 Americas Cup. Can be sold as art piece or as complete sailboat." Check it out at http://cgi.ebay.com/aw-cgi/eBayISAPI.dll?ViewItem&item=1437196823
---

YOTREPS
June 8 - The Pacific Ocean and Cyberspace
Who is out making passages in the Pacific and what kind of weather are they having? Check out YOTREPS - 'yacht reports' - at http://www.bitwrangler.com/yotreps/
---

Weather Updates
June 8 - Pacific Ocean
San Francisco Bay Weather
To see what the winds are like on the Bay and just outside the Gate right now, check out http://sfports.wr.usgs.gov/wind/.
California Coast Weather
Looking for current as well as recent wind and sea readings from 17 buoys and stations between Pt. Arena and the Mexican border? Here's the place - which has further links to weather buoys and stations all over the U.S.: www.ndbc.noaa.gov/stuff/southwest/swstmap.shtml.
Pacific Sea State
Seas are normal in the Pacific. But you might check out the Pacific Ocean sea states at: http://www.mpc.ncep.noaa.gov/RSSA/PacRegSSA.html.
For another view, see http://www.oceanweather.com/data/global.html.
---
Top
/ Index of Stories / Subscriptions / Classifieds / Home
©2001 Latitude 38 Publishing Co., Inc.