| | |
| --- | --- |
| | |
---
Photo of the Day

June 7 - Cap d'Agde, France

The Photo of the Day is of Giovanni Soldini's new 60-ft Marc van Peteghem/Vincent Lauriot Prevost-designed 60-ft trimaran Fila, launched just in time for the Cap d'Agde Grand Prix in the South of France. Around the world winner Soldini will be competing against seven other similar trimarans in what is currently the hottest racing in Europe. Instead of the conventional daggerboard arrangement, Fila has a dinghy-style centerboard - albeit 16-ft long - which rotates aft into a case. The use of giant hydraulic rams attached to the shrouds, allowing the mast to be canted to weather, was first tried out on Loïck Peyron's original Fujicolor (now racing as Belgacom). Now all the 60-ft tris have this system. Fila, however, has gone a stage further and has a hydraulic ram on her forestay so that the mast can be canted both sideways and fore and aft.

One 60-ft tri that won't be entered is Marc Guillemot's La Trinitaine-Team Ethypharm, which lost her starboard bow in the Mondial Race and was abandoned by her crew. Before a salvage vessel could get to her, an American ship came alongside and smashed her port hull, then took her in tow at 18 knots for 250 miles. When her mast fell down, she was abandoned. Guillemot's team is hoping to put the uninsured boat back together again before the end of the season.


Photo Courtesy madforsailing.com
---
Latitude Defends BCDC?
June 7 - Sausalito

Illegal anchor outs - which means all of them - in Richardson Bay are quaking in their boots over today's BCDC meeting, during which the BCDC staff will present a new strategy for the Bay for the Commissioners' approval. The anchor-outs believe that if the Commissioners accept the new strategy, they'll all soon be kicked out of Richardson Bay.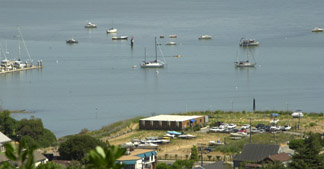 Richardson Bay anchorage from a hilltop in Sausalito
Photo Latitude/Richard
According to BCDC Staff Attorney Ellen Sampson, that is not the case. Even though all the anchor-outs are illegal, Sampson says the new strategy only calls for making sure that there are fewer illegal anchor-outs a year from now. She assured us that there is no plan to kick everyone out - even though they're illegal - in the near future.
We've been severe critics of the BCDC for a long time on several key issues, but if what Sampson tells us is true, and if the BCDC keeps an open mind about reasonable future use of Richardson Bay, we think they may be headed in the right direction.
---
Fact and Fiction at the Golden Gate YC

June 7 - San Francisco

"Now that the Golden Gate Yacht Club has cut a nice deal with Larry Ellison and Oracle Racing - basically for the 'for profit' part of the club (i.e. the restaurant business) - and has several memberships and board seats, should we continue to call it the Golden Gate YC?" asks Mike Ratiani. "Or - taking the words from Arlo Guthrie - can we get anything we want at Ellison's Restaurant? It's not completely original, but I can report that being a regular diner at the Wednesday night Woodie Races at the Golden Gate YC, the food is significantly better now than it was before the deal with Oracle Racing. And the bartenders wear ties, and the service is stepped up!"

If you don't mind, Mike, we'd like to take a few minutes here a clear up some gross errors in what has been reported about the relationship between the Golden Gate YC and Oracle Racing. When you say that the Golden Gate cut a nice deal with Larry Ellison and Oracle Racing, we presume you base it on the article by Rich Roberts in a recent issue of The Log. In that article, Roberts quoted Lynda Myers of the YRA as saying that Oracle gave the Golden Gate YC $1 million - which simply isn't true. As Norbert Bajurin, Commodore of the Golden Gate YC, explained, "The Golden Gate YC is a 'not for profit' organization. We have no common stock, and we cannot offer ourselves for sale. There was never a form of payment, loan or donation ever discussed between the Golden Gate and Oracle Racing." So calling the Golden Gate 'Ellison's Restaurant' is no more accurate than it would have been to call the St. Francis YC 'Cayard's Restaurant' the last time around.


Golden Gate Yacht Club
Photo Latitude/Richard

Since there are so many ridiculous rumors surrounding the Golden Gate-Oracle arrangement, we decided to call the Golden Gate YC and ask them if their food service has changed in any way - as you have claimed. When we called the club yesterday afternoon, the phone was answered by Chef William Chow - who has a good name for a cook. When we asked if the food has changed in any way since the arrangement with Oracle, he said it was the same as long as he'd been there - which predated Oracle Racing's arrangement with the club. So maybe Oracle Racing's association with the club simply makes the same food taste more delicious. And it wouldn't surprise us if the bartenders and other staff didn't now take a little more pride in their work.
---
Small Cat on a Rough Ocean

June 7 - Pacific Ocean

B.J. Caldwell, who was once the youngest person to ever sail singlehanded around the world, called to report he just made his ninth crossing between Hawaii and California. The latest was delivering Alley Kat, a Gemini 32 cat, from Honolulu to San Francisco Bay. The boat had originally sailed from Portland to Maui, then been abandoned.

Caldwell said the crossing took 21 days, and wasn't bad until they got off Pt. Reyes in a lot of wind. It was blowing about 35 knots with steep seas, and when they really started going fast, the rudders cavitated. "Our top speed was 16 knots with no sails up. Twice a hull lifted out of the water and we almost flipped." During that period, B.J. said he wished he'd been in the 26-ft monohull he singlehanded around the world.


BJ Caldwell
Photo Courtesy http://holoholo.org/caldwell/index.html
---


Sydney-Hobart on CNN
June 7 - Atlanta, GA

A television documentary about the deadly 1998 Hobart Race will be the focus of CNN Presents this Sunday, June 10, at 7:00 PM PDT (that's 10:00 PM for you right coasters). Based on Bruce Knecht's new book, The Proving Ground, this special features rare footage of the race and some rescues. It's told from the perspective of the sailors and rescuers who lived through the event. People who have previewed this program tell us it's very well done. See www.cnn.com/CNN/Programs/presents/showinfo.html for more info.
---


YOTREPS
June 7 - The Pacific Ocean and Cyberspace
Who is out making passages in the Pacific and what kind of weather are they having? Check out YOTREPS - 'yacht reports' - at http://www.bitwrangler.com/yotreps/
---


Weather Updates
June 7 - Pacific Ocean
San Francisco Bay Weather
To see what the winds are like on the Bay and just outside the Gate right now, check out http://sfports.wr.usgs.gov/wind/.
California Coast Weather
Looking for current as well as recent wind and sea readings from 17 buoys and stations between Pt. Arena and the Mexican border? Here's the place - which has further links to weather buoys and stations all over the U.S.: www.ndbc.noaa.gov/stuff/southwest/swstmap.shtml.
Pacific Sea State
Seas are normal in the Pacific. But you might check out the Pacific Ocean sea states at: http://www.mpc.ncep.noaa.gov/RSSA/PacRegSSA.html.
For another view, see http://www.oceanweather.com/data/global.html.
---
Top
/ Index of Stories / Subscriptions / Classifieds / Home
©2001 Latitude 38 Publishing Co., Inc.