| | |
| --- | --- |
| | |
---
Photo of the Day
June 5 - Catalina Island
The photograph is of Doña de Mallorca eating one of the monster burgers from The Reef Restaurant at Two Harbors on Catalina during a recent cruise there. How do they expect someone to put such a large burger into such a small mouth?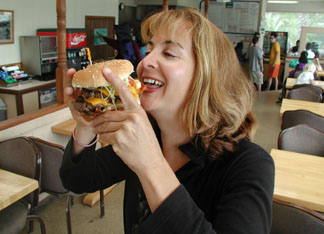 Photo Latitude/Richard
What you're also seeing in the photograph is one of the leading causes of water pollution in the United States. We're talking about the greasy burger, not de Mallorca. To prove that we're not making this up, here's how Barry Newman of the Wall Street Journal reported it on the front page of the June 4 edition:
"America's sewers are in a bad way. Three quarters are so bunged up that they work at half capacity, causing 40,000 illegal spews a year into local waters." He continues: "With colonoscopic clarity, the camera shows a pipe with a drippy coating of fat. Fat won't pollute; it won't corrode or explode. It accretes. Sewer rats love sewer fat; high protein builds their sex drive. Solids stick in fat. Slowly, pipes occlude. Sewage backs up in basements - or worse, the fat hardens, a chunk breaks off and rides down the pipe until it jams in the machinery of an underground floodgate. That, to use a more digestible metaphor, causes a municipal heart attack."
A grease clot in Georgia recently set off a 600,000 gallon surge of sewage into the Chattahoochee River. And in January, the EPA reported that Los Angeles had 2,000 sewage overflows in the last five years, 41% of them blamed on grease! We don't know about you, but we're going to have a salad for dinner.
---
Neosal Beached, then Saved

June 5 - Banderas Bay, Mexico

"The last thing Rachel heard Alex say before they felt their Cascade 42 Neosal bounce off the bottom of Banderas Bay was, 'Hey, there's a reef out here!'" So reports Vicki Nelson of Toujours L'audace in Puerto Vallarta. "The couple had been on their way back to port after a beautiful day of sailing on Banderas Bay. A few seconds later, they were dropping the mainsail when they felt the boat bump on something, and then another bump. They started the engine and tried to bust loose, but the current was too strong and it was already too late. "It all happened so quickly," said Alex. "Before we knew it, we were in the surf line and there was no getting away."

Neosal had hit bottom on a shoal that runs a half-mile off the beach between Nuevo Vallarta and the mouth of the Rio Ameca. It doesn't look like it's shallow, but it is. Within minutes, Neosal was on the beach and would be there for the night. Thanks to the efforts of many - Dick Markie and his Paradise Marina staff, Drumbeat, Toujours L'audace, Wayward, 401K, Miss Lindy, Quest, Glen David, Valera Liz, Peggy Doll, Picante, American Eagle, Sojourn, Anticipation, Mucho Gusto, Magic Carpet, Justice, Two Knots, El Gaurdin, Desperado Marine, Kent State students, the Mexican Navy and others - the boat was ultimately saved. For the whole story, see the July issue of Latitude 38.


Photos Tom & Viki Mortensen, Valiant 42, San Francisco
---
Vendée Globe Officially Ends

June 5 - Les Sables d'Olonne, France

How fanatic are the French about sailing? An estimated 80,000 folks showed up at a Les Sables d'Olonne, France, beach at low tide last Saturday night for a spectacular prize-giving to conclude the long since over Vendée Globe. Eighty thousand people! It was announced that the next Vendée will start in November of 2004 and that most of the rules will remain the same. Between now and then, many of the top sailors - including Vendée winner Michel Desjoyeaux - are sailing on or hoping to build 60-ft trimarans with a view towards next year's Route du Rhum Transatlantic Race. The Vendée Globe awards ceremony was spectacular, with fireworks and all, but only lasted two hours because the tide started coming back in. But 80,000 people!


Finish line at Les Sables d'Olonnes

Photo Thierry Martinez
---

A Gathering of Eagles

June 5 - Long Beach

Rich Roberts of www.Premiere-Racing.com reports, "Names on early entry forms for the 17th annual North Sails Race Week, June 22-24, include world, Olympic and America's Cup champions - alphabetically, Dennis Conner, John Cutler, Eric Doyle, Steve Flam, Pease Glaser, Robbie Haines, Craig Healy, Peter Isler, John Kostecki, Jeff Madrigali, Rick Merriman, Morgan Reeser, Dave Ullman and Gary Weisman - with a promise of more to come.

"Conner will be sailing his recently acquired Reichel/Pugh 50 Stars & Stripes, formerly Morning Glory, among the big handicap boats that rate NSRW's conditions and competition a highlight of the season. His strongest rival may be Mike Campbell's new Transpac 52, with Madrigali, an Olympic bronze medalist, calling tactics. Many of the other elite sailors can be found in the high-profile one design classes such as Farr 40, 1D35 and Melges 24. The Farr 40s and Schock 35s will weave their Pacific Coast Championships into the event. The Melges 24s will feature it as their Western Open and the Santana 20s as their Western Regionals. Other one design classes expected to compete include J/120, J/105, Olson 30 and Express 37."
---


Catnip Cup, Repeat Announcement
June 5 - San Francisco Bay

This weekend is the no-host Catnip Cup overnighter to Vallejo for cruising multihulls. If you're one of the many folks who expressed interest in participating, here are the details: The fleet will gather in the vicinity of the Golden Gate Bridge and Yellow Bluff (on the Marin side) starting at about 11:15. The slower cats and tris - you determine if you are slower or not - should start heading directly toward Vallejo at 11:30. If you're a medium speed multihull, maybe you'll leave a half hour later. We aboard the 63-ft Profligate will be leaving about 12:30, and will be sailing from the Golden Gate to Fort Mason, then up to Vallejo, hoping to photograph as many other boats as possible. With the Catnip Cup, you sail any course you want. You can also motor as much as you want. The finish line is off the Vallejo Municipal Marina, which should be able to accommodate just about everyone. Call Ken and his staff at (707) 648-4370 for berth reservations. It's possible that deeper draft cats may have to anchor out part or all of the time. In any event, after we get there, we'll be firing up a BBQ ashore and hoping to meet as many of you as possible. The start home the next day will commence sometime between 9 and noon - whenever you feel like it. If you're planning to participate, email Richard so we can get an idea of how many folks will show up.
Room for Crew on Catnip Cup
"I caught the Catnip Cup update in 'Lectronic Latitude," reports Glenn Fagerlin of the Kronos 45 cat Perception. "I will come down on Friday from Martinez and be ready for the start on Saturday. I am planning to singlehand and have three extra staterooms. If Cliff Shaw of Rainbow, whose cat won't be ready on time, wants to come along, have him call me at (800) 707-3140." While Cliff didn't specifically say so, we expect that he wouldn't object to having several other crew, too, so give him a call.
---


YOTREPS
June 5 - The Pacific Ocean and Cyberspace
Who is out making passages in the Pacific and what kind of weather are they having? Check out YOTREPS - 'yacht reports' - at http://www.bitwrangler.com/yotreps/
---


Weather Updates
June 5 - Pacific Ocean
San Francisco Bay Weather
To see what the winds are like on the Bay and just outside the Gate right now, check out http://sfports.wr.usgs.gov/wind/.
California Coast Weather
Looking for current as well as recent wind and sea readings from 17 buoys and stations between Pt. Arena and the Mexican border? Here's the place - which has further links to weather buoys and stations all over the U.S.: www.ndbc.noaa.gov/stuff/southwest/swstmap.shtml.
Pacific Sea State
Seas are normal in the Pacific. But you might check out the Pacific Ocean sea states at: http://www.mpc.ncep.noaa.gov/RSSA/PacRegSSA.html.
For another view, see http://www.oceanweather.com/data/global.html.
---
Top
/ Index of Stories / Subscriptions / Classifieds / Home
©2001 Latitude 38 Publishing Co., Inc.