---
Photo of the Day
June 1 - Hiva Oa, Marquesas
Garth Wilcox and Wendy Hinman, of the Seattle-based Wylie 31 Velella, sent us this shot of Hiva Oa in the Marquesas.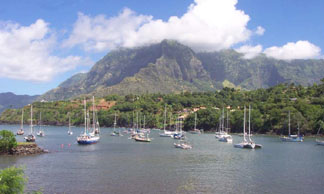 The couple just completed the 2,800-mile crossing in less than 23 days - not bad for a not-light 31-footer. They sailed all the way, too. The photograph is interesting, because we can identify several boats that we raced against at the Banderas Bay Regatta in late March. Small boats may not be fast, but they do get around.

Here are some of the facts on Garth and Wendy's crossing: Average wind speed: 8 knots. Average boat speed: 5 knots. Highest boat speed: 10.2 knots. Lowest boat speed: 0.0. (Are you surprised?) Average daily run: 118 miles. Highest daily run: 167 miles. Lowest daily run: 56 miles. Highlight: Mid-ocean rendezvous with sailing vessel Queen Jane, passing books and ice-cold Cokes and ice across the water via a boathook in dry bags. Would the couple do a passage like this again? "Absolutely, yes!"
---


Part of Team Phillips Is Spotted
June 1 - Atlantic Ocean

Up until yesterday, the last time anybody had seen Pete Goss' radical maxi cat, Team Phillips, was December 19, some 650 miles west of Ireland. She had been abandoned in terrible sea conditions a week before during testing for the then-upcoming Race Around the World. One of Team Phillips' bows was spotted yesterday off the Irish coast by the Norwegian seismic survey vessel Geo-Pacific. It was not recovered.
---

Prada Back in Tuscany
June 1 - Punta Ala, Italy

Team Prada - an early favorite for the next America's Cup along with Oracle Racing and the Swiss - report that they have just unloaded Luna Rossa and the former Young America in Italy, having been two-boat sailing in the Hauraki Gulf until just six weeks ago. Prada is now back home at their base at Punta Ala, a secluded village to the northwest of Rome. Skipper Francesco de Angelis and crew will be putting the boats back together again for two months of intense training and data collection before going to Cowes, England, in August for the America's Cup Jubilee. By mid-September, the boats and crew will be back in New Zealand for more training. More information and photos are available at www.prada-americascup.com.
---


Loreto Fest 2001
June 1 - Puerto Escondido, BCS

The sixth annual Loreto Fest - held at Puerto Escondido from May 17th through the 20th - attracted a record number of 170 cruising boats. "Cruisers, former cruisers and wannabe cruisers gathered to celebrate the lifestyle and the approaching skinny dipping season in the Sea of Cortez," report Dennis and Paula of the Cal 31 Backstreets. "'Looking Good and Feeling Fine' - a saying made famous by Peetie of Vela - was the theme this year. Peetie and her husband Bob are founders and charter members of the Hidden Port YC. Both Peetie and Bob will be 80 years young this year. The Fest was dedicated to this wonderful couple, and their birthday was recognized by 350 cruisers singing 'Happy Birthday' and sharing an enormous cake. They live on the beach but continue to cruise their sailboat to local islands." More on Loreto Fest as soon as the photos arrive.
---

Great Atlantic Gear Test
June 1 - St. Lucia, Windward Islands

At the end of last year's Atlantic Rally for Cruisers, Yachting World magazine conducted a survey of 197 skippers to find what worked and what didn't work. The results are in their June issue. The Top Ten 'Most Popular Equipment'? Autopilot, GPS, Radar, HF radio, fridge/freezer, diesel generator, watermaker, chart plotter, self-steering vane and Inmarsat C. The 'Most Useful Equipment'? GPS autopilot, watermaker, generator and fridge/freezer. The 'Least Reliable'? Autopilots. When your 'most popular' is also the 'least reliable', you know there's going to be trouble. But check it out, as it's full of great information.
---

In the Wake of Ellen MacArthur
June 1 - Great Britain

Thanks in no small part to the success of Ellen MacArthur, Emma Richards and Miranda Merron, a couple of excellent British women sailors, have secured sponsorship of $3 million for the next three years. They'll be building an Open 60 similar to MacArthur's Kingfisher.
---
Photos from Last Weekend

June 1 - San Francisco Bay


Aground off Crissy Field


Adventure Cat with a full load

Photos Latitude/Richard


A catboat sailing to weather up Raccoon Strait


The Swan 61 Hasty Heart in the North Bay
---


YOTREPS
June 1 - The Pacific Ocean and Cyberspace
Who is out making passages in the Pacific and what kind of weather are they having? Check out YOTREPS - 'yacht reports' - at http://www.bitwrangler.com/yotreps/
---


Weather Updates
June 1 - Pacific Ocean
San Francisco Bay Weather
To see what the winds are like on the Bay and just outside the Gate right now, check out http://sfports.wr.usgs.gov/wind/.
California Coast Weather
Looking for current as well as recent wind and sea readings from 17 buoys and stations between Pt. Arena and the Mexican border? Here's the place - which has further links to weather buoys and stations all over the U.S.: www.ndbc.noaa.gov/stuff/southwest/swstmap.shtml.
Pacific Sea State
Seas are normal in the Pacific. But you might check out the Pacific Ocean sea states at: http://www.mpc.ncep.noaa.gov/RSSA/PacRegSSA.html.
For another view, see http://www.oceanweather.com/data/global.html.
---
Top
/ Index of Stories / Subscriptions / Classifieds / Home
©2001 Latitude 38 Publishing Co., Inc.