---
Photo of the Day

July 31 - Mission Bay

While cruising this summer in Southern California, Mike Fitzgerald of Sabattical, came across this odd-looking craft off San Diego's Mission Bay. Although it looks like he just missed the turnoff for the 405, he's actually on a boat of sorts and taking photos of the boats racing from Mission Bay to San Diego Bay. We'd like to see him take photos from that on San Francisco Bay during the summer when there's a good ebb running.


Photo Mike Fitzgerald
---
Atlantic Rally For Cruisers

July 31 - Atlantic Ocean

The ARC, the 2,700-mile cruising rally from the Canary Islands to St. Lucia in the Eastern Caribbean, started the cruising rally phenomenon - and it's going strong. Although it doesn't start until the middle of November, it's already fully subscribed with 235 paid entries, but also has 18 more on the waiting list. So it's not going to be empty in the Eastern Caribbean this winter.

One of the event's trends in the last few years has been the dramatic increase in the number of multihull entries. There were none in '98, nine in '99, 13 in '00, and there are 20 this year. For what it's worth, eight of the 20 are Catanas. Here's the list: Alkedo, Lagoon 55, Germany; Brigand, Space 52, Great Britain; Cakrawala, Catana 431, Tom Reese, USA; Chellers, Prout 34, Great Britain; Double Trouble, Catana 582, Don Balthaser, USA; Escape Cay, Catana 471, Lee Bakewell, USA; Mirounga, Prout 45, Great Britain; No Limit, Outremer 43, France; Sarah Jane, Lagoon 380, Ray Miller, USA; Sir Henri, Outremer 45, France; Snow Leopard, Kelsall Sun Cat 40, Great Britain; Snowcat, Catana 431, Dean Massey, USA; Sojourner, Belize 43, Great Britain; Star Chaser, Lindenberg 65, Great Britain; Sunfish III, Prout 34, Japan; Swiss Twins, Edel 33, Switzerland; The Saint, Catana 582, Jerry Templer, USA; Today!, Catana 431, Jeffrey Smith, USA; Two of Hearts, Catana 401, Germany; Viktoria, Catana 401, John Heffernan, Great Britain. We suppose Catana is pretty happy, as six of their eight boats in the event are owned by Americans.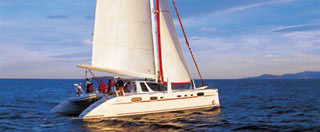 Catana 582
Photo Courtesy www.catana.com
We did the ARC in '95, and although we had to start two days late in order to meet the magazine deadline, we really enjoyed ourselves. For more info on the ARC, visit www.worldcruising.com.



---
Worked Just as Designed, Thank You
July 31 - Long Island

Yesterday we reported that Cam Lewis' Team Adventure dropped out of the Cablevision Around Long Island Regatta last Thursday after hitting the bottom with their daggerboards. Lewis said they scraped a sandbank with their leeward daggerboard while doing 20 knots near the start. As was supposed to happen, the bottom of the daggerboard snapped off, and there was no damage to the case or the hull. Nobody was thrown overboard by the impact - they jumped over to retreive the bottom of the board. Team Adventure will build another board and get ready for a run at the TransAtlantic record as soon as the weather looks favorable.


---
More than Just a Couple of Containers
July 31 - Auckland, NZ

Writing to Scuttlebutt, Grant Davidson, Facilities Manager, Americas Cup Village, had this to say about the America's Cup compound that the Swiss are building in Auckland: "The building houses two boat sheds, a workshop between on mezzanine floor, separate full-length mast shop, a sail-drying loft, a full-size sail loft, and that only covers half the building. The rest is comprised of offices and more offices, meeting rooms for every department, changing rooms, full commercial kitchen, lounges for crew, lounges for guests and sponsors/supporters, a kids' creche, restaurant, a deck area ten meters in the air, and a public auditorium. Total floor area is close to 80,000 sq. ft."
---

YOTREPS
July 31 - The Pacific Ocean and Cyberspace
Who is out making passages in the Pacific and what kind of weather are they having? Check out YOTREPS - 'yacht reports' - at http://www.bitwrangler.com/yotreps/
---

Weather Updates
July 31 - Pacific Ocean
San Francisco Bay Weather
To see what the winds are like on the Bay and just outside the Gate right now, check out http://sfports.wr.usgs.gov/wind/.
California Coast Weather
Looking for current as well as recent wind and sea readings from 17 buoys and stations between Pt. Arena and the Mexican border? Here's the place - which has further links to weather buoys and stations all over the U.S.: www.ndbc.noaa.gov/stuff/southwest/swstmap.shtml.
Pacific Winds and Pressure
We dropped in on our favorite University of Hawaii Dept. of Meteorology page and found that it has resumed daily postings of the NE Pacific Ocean barometric pressure and winds map. We used to run this satellite map everyday, but discontinued using it when it stopped updating sometime in late December. You can find it at http://lumahai.soest.hawaii.edu/cgi-bin/satview.cgi?sat=g10&region=hus&channel=uI4&anim=no&size=large.
Pacific Sea State
Check out the Pacific Ocean sea states at: http://www.mpc.ncep.noaa.gov/RSSA/PacRegSSA.html.
For another view, see http://www.oceanweather.com/data/global.html.
---
Top / Index of Stories / Subscriptions / Classifieds / Home
©2001 Latitude 38 Publishing Co., Inc.