---
Photo of the Day

July 23 - Where the Really Big Boats Are

This is what's called really getting into your work.

Photo Latitude/Richard
---
Anchor-Outs' Delight

July 23 - Sausalito

Just a month ago, things were starting to look very dim for the anchor-outs in Richardson Bay. Now, thanks to a short letter by one of the most powerful legislators in California, their future looks much brighter. In fact, one anchor-out told us he was so happy that he was going to take his "first shower in weeks so they [meaning the BCDC or Richardson Bay Regional Association boards] can kiss my ass." Much more in the August issue of Latitude 38.
---
Silver Eagle Long Distance Race

July 23 - San Francisco

If you missed last weekend's Silver Eagle Long Distance Race, you missed some great weather and great sailing. It was pretty quick, too, as the first boat to finish, the Cross 46 Defiance (photo at top right), crossed the line at the Golden Gate before 6 pm. Bruce Stone's J/105 Arbitrage corrected out first (photo at bottom left).


Arbitrage, the winner

Photos Latitude/Richard
---

YOTREPS
July 23 - The Pacific Ocean and Cyberspace
Who is out making passages in the Pacific and what kind of weather are they having? Check out YOTREPS - 'yacht reports' - at http://www.bitwrangler.com/yotreps/
---

Weather Updates
July 23 - Pacific Ocean
Tropical Storms Off Mexico
Two Tropical Storms are currently blowing off the west coast of Mexico. Erick, with winds of only 35 knots, is well out into the Pacific and no threat. Dalila, with 55 knots of wind, is paralleling the coast of Mexico and hopefully will continue out into the Pacific. Man, the surf down in San Blas must be fantastic! See http://weather.unisys.com/hurricane/e_pacific/2001/index.html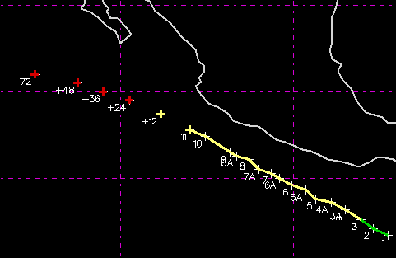 Tropical Storm Dalila
Graphic Courtesy Unisys Weather
San Francisco Bay Weather
To see what the winds are like on the Bay and just outside the Gate right now, check out http://sfports.wr.usgs.gov/wind/.
California Coast Weather
Looking for current as well as recent wind and sea readings from 17 buoys and stations between Pt. Arena and the Mexican border? Here's the place - which has further links to weather buoys and stations all over the U.S.: www.ndbc.noaa.gov/stuff/southwest/swstmap.shtml.
Pacific Sea State
Check out the Pacific Ocean sea states at: http://www.mpc.ncep.noaa.gov/RSSA/PacRegSSA.html.
For another view, see http://www.oceanweather.com/data/global.html.
---
Top
/ Index of Stories / Subscriptions / Classifieds / Home
©2001 Latitude 38 Publishing Co., Inc.