---
Photo of the Day

July 20 - Guadaloupe, FWI

Summer temperatures in the French West Indies can leave you yearning for a cool pool to relax in. On Guadeloupe, there's no better place to find relief than at the Cascade aux Excrevisses high up in the island's lush rain forest.


Photo Latitude/Andy
---
Swan on the Move
July 20 - Punta Ala, Italy

Nautor's Swan, perhaps the most prestigious name in production boats, used to be owned by a paper product conglomerate in Finland, and had a staid reputation. Everything changed when it was purchased by Leonardo - "I liked the boats so much that I bought the company" - Ferragamo, who is part of the Italian fashion dynasty of the same name. Ferragamo's first step was to jazz up the styling of new Swans by making them very clean and simple. For the second big change, Swan has just made a major acquisition, that of the British-based Camper & Nicholson, a superyacht builder whose yard dates back to 1782.

While in Punta Ala, Italy, last month, we stumbled across Ferragamo's new Frers-designed Swan 82RS Solleone. We didn't take the photo, but here's what Ferragamo likes in the way of styling.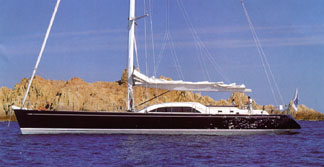 ---
That Sinking Feeling

July 20 - Gulf of the Farallones

"We were standing by while a fishing boat sunk in the southern traffic lane out the Gate on April 14," reports Mike Giraudo of Fishing Lures. "Here's what she looked like. We've even got video."





Photo Mike Giraudo
---

YOTREPS
July 20 - The Pacific Ocean and Cyberspace
Who is out making passages in the Pacific and what kind of weather are they having? Check out YOTREPS - 'yacht reports' - at http://www.bitwrangler.com/yotreps/
---

Weather Updates
July 20 - Pacific Ocean
San Francisco Bay Weather
To see what the winds are like on the Bay and just outside the Gate right now, check out http://sfports.wr.usgs.gov/wind/.
California Coast Weather
Looking for current as well as recent wind and sea readings from 17 buoys and stations between Pt. Arena and the Mexican border? Here's the place - which has further links to weather buoys and stations all over the U.S.: www.ndbc.noaa.gov/stuff/southwest/swstmap.shtml.
Pacific Sea State
Check out the Pacific Ocean sea states at: http://www.mpc.ncep.noaa.gov/RSSA/PacRegSSA.html.
For another view, see http://www.oceanweather.com/data/global.html.
---
Top
/ Index of Stories / Subscriptions / Classifieds / Home
©2001 Latitude 38 Publishing Co., Inc.