BT Global Challenge Finish
July 2 - Southampton, UK
On Saturday, June 30, skipper Conrad Humphreys and the LG FLATIRON team clinched the overall title with a win in Leg Seven of the BT Global Challenge. On September 10, 2000, 12 identical 72-ft monohulls crossed the starting line in Southampton, England, beginning the 30,000-mile race around the world, the wrong way, with seven stops.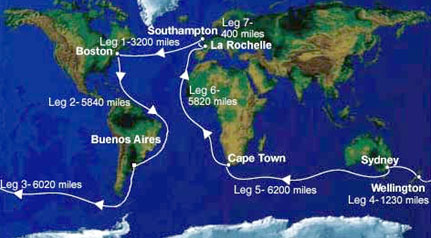 Graphic Courtesy www.btchallenge.com
Almost ten months later, in a turbulent battle in turbulent seas, cheered by thousands of spectators, LG FLATIRON pulled off an 11th-hour victory over TeamSpirIT and Norwich Union to cross the Southampton finish line at 14:06:13 GMT. LG Flatiron had steadily moved up the leaderboard during the 700-mile Leg Seven, but only on the final day did they take the lead.
Betsy Crowfoot reports, "Leg Seven was by far the most aggressive of the BT Global Challenge 2000/01, beginning with the start in La Rochelle, France... The skippers were feeling their oats. They jockeyed tightly in the pre-start area and then, bang! They were off on the final leg home.
"Bang, again! Four yachts were over the start line prematurely. Burdened with On Course Side penalties, the quartet stood off for the required hour. These boats - Quadstone, VERITAS, Spirit of Hong Kong and Save the Children - would struggle to make up for this setback during the entire 700-mile leg.
"Unlike prior legs, the final La Rochelle to Southampton stretch delivered non-stop breeze to the fleet...
"TeamSpirIT had taken an early lead in Leg Seven. They held that lead from Wednesday morning until Saturday morning, when Norwich Union advanced to the front slot. Still, TeamSpirIT, Norwich Union and LG FLATIRON were just within one mile of each other at daybreak on Saturday, and trading places.
"Along the way from La Rochelle to Southampton, the crews crossed their outbound track from 10 months ago, and celebrated the feat of circumnavigating the globe - the wrong way - on the world's toughest yacht race." To read Crowfoot's complete article, see www.btchallenge.com/news/2001/06/News_930.html.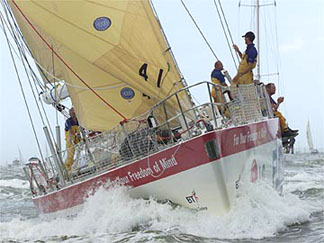 LG FLATIRON charges for the finish line at Netley
Photo Jennifer Proulx Courtesy www.btchallenge.com
Overall Results: 1. LG FLATIRON; 2. Compaq; 3. BP; 4. Logica; 5. TeamSpirIT; 6. Spirit of Hong Kong; 6. Quadstone; 7. Norwich Union; 8. Isle of Man; 9. VERITAS; 10. Save the Children; 10. Olympic Group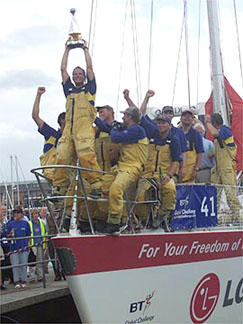 Conrad Humphreys, with the Princess Royal Trophy, says the Challenge had a "fairy tale ending."
Photo Jennifer Proulx Courtesy www.btchallenge.com
ESPN 2 has been airing coverage of the BT Global Challenge in 30-minute episodes, each episode covering one leg of the race. Episode 6 airs Sunday, July 22, and Episode 7 airs Wednesday, August 15, and Monday, August 27. Times have not been announced yet.