---
Photos of the Day

July 13 - La Cruz, Mexico

Philo Hayward of Northern California, who sailed the Cal 36 Cherokee Spirit in the last Ha-Ha, has opened Philo's Restaurant, Bar and Music Studio in La Cruz, a popular winter cruisers' hangout in Banderas Bay. The photos (clockwise from upper right) are of Philo and the establishment's sign; Philo with birthday boys Sandy, the bar manager, and Tea Pot Tony, the local diesel maestro; and the dining area and dance floor. In addition, the establishment offers a free community school on Tuesdays and Thursdays. They start with Hatha Yoga, then different levels of Spanish, music classes, and later English classes for the locals. "I'm really looking forward to the return of the fleet in November," said Philo.


Photos Courtesy Philo Hayward
---

Yacht Intentionally Rammed by Ship North of Cabo?
July 13 - Pacific Coast of Baja
According to a report in Scuttlebutt, earlier this week Rob Massuco's Foxglove III, a 65-ft ketch, was rammed and severely damaged about 120 miles north of Cabo San Lucas while sailing north. It's a bizarre story. Both masts came down, a 10-ft section of the bow was torn away, and there was severe structural damage to the bulkheads. Fortunately, nobody was hurt. It's a bizarre story.
The captain of Foxglove reports that an unladen 600-ft ship owned by a Singapore company, registered in the Bahamas, and skippered by a Croatian, passed a mile off their beam about 0630 a few days ago, then disappeared over the horizon heading south. At this point, Foxglove was put on autopilot so the skipper and one of the crew could work on the generator and engine. Winds were light and there were four-ft seas.
When the captain came back on deck half an hour later, he found that the freighter had turned 180 degrees and was heading directly at them at between 15 and 20 knots. That's when the collision occurred. The freighter then turned around and appeared to make another run at the yacht! But stopped short.
What's the story? The captain of Foxglove says he thinks the skipper of the ship wanted to have some fun and scare the yacht, but misjudged the speed and distance. The captain of the ship is reported to have said that Foxglove signaled an SOS and they were returning to help.
Ultimately, the ship offered to take the yacht in tow, but the skipper of Foxglove declined. The ship was asked to call the U.S. Coast Guard, but either could not or did not make contact. The Mexican Navy finally arrived on the scene 18 hours later, and towed Foxglove to Cabo San Lucas. Representatives of the ship have apparently hired the Port Captain to conduct a survey.
Over the years, there have been a number of instances of fishing boats chasing and ramming recreational boats, particularly in Mexico, but this is the first time we can remember somebody believing a ship changed course 180° to ram them.
---

Rich Roberts Rounds up the 41st TransPac
July 13 - Honolulu

| | |
| --- | --- |
| If conditions in the 41st TransPacific Yacht Race have seemed too placid to produce a record, think again. TransPac lists no official doublehanded record, but Howard Gordon's Open 50 Étranger sailed the 2,225 nautical miles with Jay Crum as the only other crew member in 10 days 4 hours 4 minutes 1 second. That eclipses the elapsed time of 11:17:51:12 by Blackjack, a MacGregor 65 sailed by Carl Nelson and John Townsend in 1995, which is believed to be the fastest TransPac by a two-man crew. | |

"We had a good time," Crum said. "I'd do it again." That's easy to believe. Crum, 43, from Soquel, has now sailed 12 TransPacs and 16 races from the U.S. West Coast to Hawaii. Gordon was sailing his first, but the two were happy with their performance despite a handicap rating of 12.717 seconds per mile, sixth lowest in the fleet. With that, they probably won't even win overall on corrected time among the three doublehanded entries. "That's OK," Crum said. "We just wanted to go as fast as we could."
The other two doublehanders - Dan Doyle's Two Guys on the Edge from Hawaii and Michael Abraham's Watercolors, Newport Beach, were expected to finish Friday and Saturday, respectively. Jorge Morales' Mystere, a fully crewed Swan 42 from Laguna Niguel, was in a nail-biting battle with Watercolors for the Tail-end Charlie award. Étranger was designed by Scott Jutson and built in Australia in 1994, completing something of a Down Under sweep. Philippe Kahn's Barn Door-winning Pegasus and Seth Radow's overall winner Bull also were built in Australia.


Two Guys on the Edge arrive in Honolulu
Photos Courtesy TransPacific Yacht Club
Gordon, a resident of San Luis Obispo, was off surfing Thursday as Crum talked about the race. "We found our limits," he said. "It's a big boat and we had to throttle back just to get rest." They got plenty of that the first night out parked in the lee of San Nicolas Island 70 miles offshore for 12 hours, along with Medicine Man, Mongoose and Yassou, all of which had to play catch-up the rest of the way. Their only serious breakdown came 50 miles from the finish when the spinnaker block broke at the top of the carbon fiber mast. The load on the internal halyard split the mast down to the top spreaders, forcing them to finish without a chute. But they weren't discouraged by either of the reversals. "You could do the race in eight days with this boat," Crum said.

At a press conference for the winning skippers Thursday, Pegasus crew member Zan Drejes noted the effect of TransPac increasing the daily roll calls from one to two. "It definitely kept the boats closer together," Drejes said. "It was more tactical than a navigator's race. The intensity was relentless. When we had 15 sleds [in past years] you were lucky to see another boat." The difference was that there was less chance to break away from a rival between roll calls, as Roy E. Disney's Pyewacket did against Zephyrus in 1999. Disney said, "We were within sight of each other for seven consecutive days. It looked like an ad for North Sails at one point." Drejes said, "I suppose somebody could have missed a roll call, but we felt that wasn't in the spirit of the competition." Drejes, who won the Don Vaughan top crew member award sailing with Disney in '99, played a key role in organizing Kahn's crew. "Philippe hired a band of mercenaries from around the world," Drejes said.

Pete Heck, a member of David Janes' crew on J-Bird III, a TransPac 52, told of a close encounter as they sailed the final miles toward Oahu early Tuesday morning. "The sun was just coming up and I could see something low in the water moving on a collision course with us," Heck said. "I said, 'Is that a submarine?' David said, 'Oh, yes, that's a boomer.' " Janes should know. He's a retired Navy rear admiral. "We couldn't see anybody on deck," Heck said. "We tried to call 'em about 25 times on our radio but never got a response. Since we were doing about 20 knots with a spinnaker up we were getting a little concerned. We thought we'd have to jibe and go around 'em." Instead, they headed upwind slightly and slipped past the boomer's bow.

The senior citizens aboard the 65-foot ketch Bonaire, an Aloha Division entry, were one crew that didn't worry about breakdowns. "It's a good boat, strong as an ox," said Jim Eddy. "It goes 9 knots." Although three of the crew members were over 70, "We did 12 jibes and seven sail changes the last seven days," Eddy said. Eddy and Gil Jones are former TransPacific Yacht Club commodores. Jones said, "The refrigerator door fell off when I was trying to get some ice out for drinks. That's absolutely the only thing that broke."

For final results and other features, visit www.transpacificyc.org.
---

Moby Dick, the Fender
July 13 - San Francisco Bay

Some of you may remember that on the Fourth of July, Robert Sutherland fell off Profligate and did a little body-skiing behind the port transom while attempting to pick up a stray fender floating in the middle of the Bay. Once the cat was brought up into the wind, Robert was able to pull himself back aboard. He'd been in the water about 20 seconds. But the fender had gotten away, which pissed off both the Wanderer, who was at the helm, and Sutherland, who'd gotten wet trying to retrieve it. The fender was named 'Moby Dick', and the hunt was resumed with a vengeance. As the photo by Juan de Juanderer proves, Moby Dick the Fender was soon captured without damage to the boat or further injury to the crew.

For what it's worth, if original plans had gone through, Sutherland was to have helped crew Foxglove - the boat just hit by a ship - on a trip to the South Pacific. But the ketch's plans were changed. (See story above.)


Robert Sutherland (in borrowed clothing)
poses with the catch of the day
Photo Juan de Juanderer
---

The Santa Barbara Grand Jury Report
July 13 - Santa Barbara

Yesterday we reported that the Santa Barbara County Grand Jury issued findings that may end up costing some Bay Area boatowners thousands of dollars. Here's the deal:
It's been common in some packed marinas for the rights to a boat berth to go with a boat when it's sold. This has been the case at Santa Barbara, San Francisco Marina, and other places. There's a certain logic to it, because if buyers aren't going to have a place to put a boat they buy, they're less likely to buy it. But as a result, the 'rights' to these berths have value - sometimes many thousands of dollars. In Santa Barbara, it's asserted that some boats have sold for $60,000 more than what they are really worth because the berth came with them.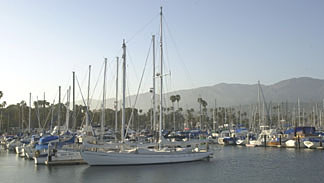 Santa Barbara Harbor
Photo Latitude/Richard

The Santa Barbara County Grand Jury doesn't like the system for a number of reasons. One is that it's made the normal wait for slips in Santa Barbara up to 175 years. Secondly, they believe that individuals shouldn't be able to make large sums of money off rights they don't really have to public lands. The practice of individuals making large sums of money off of public slips has also been criticized by other grand juries, the State Lands Commission and the State Attorney General's Office. In other words, the heat is on, particularly as there are some efforts to standardize rules statewide.

We'll publish the complete report in the August issue of Latitude 38, but meanwhile, if you've got the 'right' to transfer the slip when you sell your boat and think it's worth a lot of money, it's probably worth a little bit less than it was last month. If the Santa Barbara Grand Jury gets its way, the system will be outlawed in five years, which means the value of the berths will plummet with each passing year. There's no final verdict, but consider yourself having been warned.
---

YOTREPS
July 13 - The Pacific Ocean and Cyberspace
Who is out making passages in the Pacific and what kind of weather are they having? Check out YOTREPS - 'yacht reports' - at http://www.bitwrangler.com/yotreps/
---

Weather Updates
July 13 - Atlantic Ocean
Tropical Storm Cosme
Yesterday's Tropical Depression #2 in the Atlantic has turned into Tropical Storm Cosme with 35 knots of wind. On the other hand, another weather site (weather.unisys.com/hurricane/atlantic/2001/index.html) says it's only blowing 20 knots and dissipating. We'll see...
July 13 - Pacific Ocean
San Francisco Bay Weather
To see what the winds are like on the Bay and just outside the Gate right now, check out http://sfports.wr.usgs.gov/wind/.
California Coast Weather
Looking for current as well as recent wind and sea readings from 17 buoys and stations between Pt. Arena and the Mexican border? Here's the place - which has further links to weather buoys and stations all over the U.S.: www.ndbc.noaa.gov/stuff/southwest/swstmap.shtml.
Pacific Sea State
Check out the Pacific Ocean sea states at: http://www.mpc.ncep.noaa.gov/RSSA/PacRegSSA.html.
For another view, see http://www.oceanweather.com/data/global.html.
---
Top
/ Index of Stories / Subscriptions / Classifieds / Home
©2001 Latitude 38 Publishing Co., Inc.