Rich Roberts'
TransPac Report
July 11 - Honolulu
Bull, a new Australian-built Sydney 40 owned and skippered by Seth Radow of Marina del Rey, crossed the Diamond Head finish line in the pre-dawn darkness of 3:49 a.m. Hawaiian Time today (Wednesday) to claim overall corrected time honors for the 41st TransPacific Yacht Race. Illuminated only by a searchlight from the Coast Guard-operated Diamond Head lighthouse, Bull was an hour and a half ahead of the deadline for saving its handicap time against Philippe Kahn's 75-foot Pegasus, nearly twice its size.
Pegasus finished two days earlier to collect the Barn Door trophy for the race's fastest elapsed time of 8 days 2 hours 34 minutes 3 seconds. Bull, with a one-day head start in Division IV, had an elapsed time of 10 days 17 hours 49 minutes 19 seconds.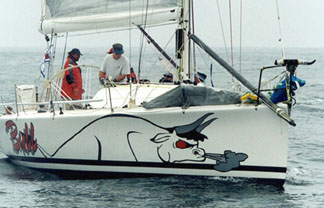 Bull shows its horns at the start of the race.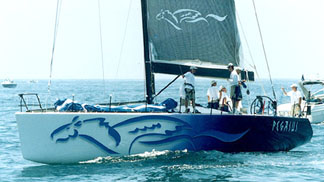 Barn door winner, the new Pegasus.
Photos Rich Roberts
David Janes' new Transpac 52 J-Bird III from Newport Beach was the first finisher in Division II ahead of all the 70-rater sleds. But J-Bird III, designed by Alan Andrews, owed the sleds about seven seconds per mile and just missed correcting out on James McDowell's Santa Cruz 70 Grand Illusion for overall in class. G.I. was the race's overall handicap winner in '99. Janes said, "I understood we were expected to sail fast, but to beat [the sleds] boat for boat is special. We saw G.I. about three-quarters of a mile to leeward when we passed them a couple of days ago. The boat is very stable, fast, well-balanced and takes off like a jackrabbit in a spurt." Jim Demetriades' sky blue Yassou, the other new 52, was fourth overall in Division II. Janes highly recommends the new class to others. "They can sail up there with the big guys and they don't need five million bucks."
Bob Lane's Andrews 61 Medicine Man from Long Beach - five feet longer than it was in previous TransPacs - climbed from next-to-last to fourth among the eight boats in Division II by the end. Navigator John Jourdane said, "That boat is really fast. Our problem was we got stuck for 12 hours behind San Nicolas Island [70 miles offshore] the first night with no wind, but once we got in a breeze the boat just took off."
A common theme of this TransPac has been the wonderful cruising conditions - full moon, clear skies, whale sightings, steady but manageable winds. "It was, astonishingly, one of the most pleasant races I've ever done," said Stan Honey, Pyewacket's navigator. "The only time we had water on deck was when we put our bow into a wave [while] running [downwind]. If every race was this way we'd have 200 boats. We should tell everybody it's always like this."
Wendy Siegal of Sunset Beach, with her apparent overall victory in Aloha-A Division, is one of the rare women to win class in TransPac - maybe the first since Sally Blair Ames won Class A with Constellation in 1959. Siegal sailed the 36-year-old Cal 40 Willow Wind, the oldest boat in the race. The six-person crew included navigator Duncan Harrison, who two years ago rebuilt their broken boom in mid-ocean just to finish the race. This win was built on a bold dive south the first day, then a 13-day spinnaker run from last place, picking off the other five boats, one by one. Siegal, 49, said, "I'm not a rich sailor. I sell clothes at Nordstrom's. I quit my job to do this race. I don't know if I'll get it back. But this is the ultimate."
For additional information and features, visit www.transpacificyc.org.