---

Comparison Shopping on Catalina

July 10 - Catalina Island

| | |
| --- | --- |
| When visiting Catalina, $3.50 will buy you an evening trip ashore - but not back out - on the shoreboat, or a big burger at the Reef Restaurant in Two Harbors. Take your pick. | Photos Latitude/Richard |
---

Philippe Kahn and Pegasus Take Barn Door Honors by One Hour
July 9 - Honolulu

When it comes to the TransPac, the big deal is winning the Barn Door Trophy, indicative of the fastest elapsed time. In one of the most hotly contested TransPacs ever, Phillipe Kahn and his Santa Cruz-based R/P 75 Pegasus from Santa Cruz took honors. Rich Roberts reports:
"Captains of industry, as well as sailing ships, have tried for nearly a century to win the TransPacific Yacht Race, some successfully, many in vain. It took Roy E. Disney two decades to claim the wooden Barn Door trophy, symbolic of the fastest elapsed time. Philippe Kahn, a, French-born software developer from Santa Cruz, won it Monday on his second try when he sailed his 75-foot ultralight sloop Pegasus past the finish line off Diamond Head after 8 days 2 hours 34 minutes 3 seconds. Pegasus was an hour and three minutes ahead of Disney's Pyewacket to climax an epochal three-way battle across 2,225 nautical miles from Los Angeles that also included Bob McNulty's boat Chance. Kahn, 49, has been sailing competitively for little more than two years. He surfaced as a major player on the world scene in this event two years ago when he finished fifth in Division I in a second-hand boat. This time he had his own boat built with the express purpose of winning the TransPac and recruited some of his adopted country's best sailors to help him sail it. The least experienced sailors aboard were Kahn and his 11-year-old son Samuel - nicknamed 'Shark' - who is believed to be the youngest person ever to participate in a TransPac. The 12-person crew included world-class household names such as Mark Rudiger, navigator extraordinaire; Jeff Madrigali; bowman Curtis Blewett; Morgan Larson; and Zan Drejes, who won the event's Don Vaughan award as best crewmen on the winning boat with Pyewacket in '99.
"Kahn said, 'We started working on this two years ago. We built a boat and we trained a team. Pyewacket has a great team, but we were lucky and we outsailed them.'
"Disney said, 'It was kind of long and slow, but it was three boats glued together. The only time we were out of sight was today.' Often the boats were within shouting distance, 'but we both restrained ourselves,' Disney said. Disney said that in breeze above 20 knots Pyewacket seemed faster, but Robbie Haines, his sailing manager, said, 'When we were alongside we could see they were faster. They had a faster boat and did a nice job sailing it. It was great sailing - a 2,300-mile match race.'
"It also was more tactical and less navigational than most TransPacs. One time Pegasus broke away but quickly lost distance and rejoined the other two. 'Everywhere we went they went, too,' Haines said. Rudiger said, 'That was Philippe's thing. He's more tactical. But we thought we had more speed than they did.'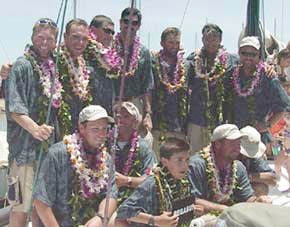 The happy Pegasus crew at Transpac Row
Photo Lisa Niemczura Courtesy TransPacific Yacht Club
"Kahn's eagerness to improve his sailing skills is boundless. He competes in several difficult classes and pulls equal weight on the boat with his crew. Even Shark fell into the routine of standing regular watch duty as the race progressed. Kahn does have rules, however: no tobacco, no alcohol, no drugs and no sailor-type language on his boats. Nobody seems to mind. In his e-mail commentary along the way, Kahn often deferred to Pyewacket's superior experience. But Madrigali, a two-time Olympian and veteran of nine TransPacs, said, 'Philippe likes to play it down. These are the greatest sailors I've ever sailed with. We had flawless crew work.'
"The time didn't approach Pyewacket's record of 7:11:41:27 set in the windier previous race in 1999, but it was well under the legendary Merlin's former record of 8 days that stood for 20 years. Chance, a boat similar to Pegasus, posted the race's third fastest elapsed time, about 1.5 hours behind Pyewacket. That's as far apart as the trio ever was after settling into a tense tactical game from the start.
"All that remained was to determine whether Pegasus would score an uncommon TransPac sweep: best elapsed time, first in class and first overall on corrected time. That hasn't been done since 1993, and the strongest threat to Pegasus is Seth Radow's Bull, a Sydney 40 leading in Division III. If Bull can finish by shortly after Hawaiian sunrise Wednesday, it will beat Pegasus on handicap time, but it needs to maintain its current speed of just under 10 knots over the last 350 miles."
For additional information and features, visit www.transpacificyc.org.
---
Brothers and Sisters on July Fourth

July 10 - North Bay

The only regatta on the Bay on the Fourth of July, Tiburon Yacht Club's Brothers and Sisters Regatta was sailed by two PHRF divisions in warm breezes mostly in the low teens. The regatta gets its name, not because it is sailed by brothers and sisters, but because the course takes racers around the Brother and Sister islands. The Brothers are known for the lighthouse inn on the larger of the two islands. The Sisters are smaller rocks a little further north. This year the race committee also threw in a reach around Red Rock on the way up.

On the beat back south a wind hole just north of the Richmond Bridge acted almost like a second starting line, stalling the bigger boats and allowing the smaller boats to catch up. At least partly due to a frustrating half hour trying to find breeze, five-time winner Jarlen, Bob Bloom's J/35, did not bring home any new glassware. Taking top honors in Division I (PHRF 0-150) was Stan Martin's Moore 24 Sunshine. Veteran TYC racer Don Kunstler won Division II (PHRF 150+) with his Santana 28, Don Wan. For complete results, see http://tyc.org/race.html.


Tim Russell drives Jarlen, with Bill and Susan Hoehler's J/105 Joyride in the background. It was shirtsleeves and shorts the whole race on the toasty North Bay.
Photos Latitude/Chris


Jason Woodley's Santana 30/30 Laniakea on the short first leg to the TYC turning mark.


David Crewe on spinnaker trim and Nick Burke on the guy aboard Jarlen.


Rounding the reaching mark, aka Red Rock.
---

Capricorn Cat Almost Home
July 10 - Pacific Ocean
Last Friday, Blair and Joan Grinols of the Vallejo-based Capricorn Cat, sailing back to California from Hawaii, had to make a decision about the Pacific High. "We ran right up into the Pacific High last night about 10 pm, and have been motoring ever since. We are now at 35 deg 41'N, 143 deg 55'W and may have to motor for another day or so, but I think this is better than sailing two days north to stay in the wind, and then still be the same distance from SF. We are now 1,000 miles from San Francisco. The weather fax shows wind about 200 miles ahead. Also, I notice my barometer is dropping, a good sign."
Apparently it was a good decision, as here's their latest report: "We're on the rhumb line and things are working out great. Besides the Las Palmas Rum lasting until we get home, we made the right decision about running under the Pacific High. We had to motor east for just 34 hours at six knots until this morning at 8:00 am when we caught northeast winds at 15 to 20 knots. We've been running at 7 to 9 1/2 knots all day, and the weatherfax shows wind the 850 miles to San Francisco. It's possible we'll make it back by Friday, in which case it would be 13 days, a new record for us."
---

Thai-tening up the Rules on Yachts
July 10 - Thailand

"The Thai government has decided to apply more strictly a law which has been in force for a few years already but has rarely been applied to visiting cruising boats," reports Jimmy Cornell at www.noonsite.com. "Owners of boats who wish to remain in Thailand over the currently permitted six months will have to import their vessels into Thailand and pay a number of taxes: 35% import duty, 50% excise duty and 10% luxury tax. This ruling is also applied to foreign flagged boats being used for commercial purposes. Intense lobbying from influential persons in local sailing circles, including the organizing committee of the annual King's Cup, may lead to a relaxation of this drastic rule. Also, it is reported that a recommendation has been made by the Ministry of Finance to extend the grace period from six to 12 months."
---

Weather Sours for Fossett
June 10 - Atlantic Ocean

Steve Fossett's attempt to set a new Transatlantic sailing record with his maxi cat PlayStation has temporarily been scratched due to poor weather conditions.
---

Crossing the Atlantic on Another's Bottom
July 10 - Atlantic Ocean
Tom Reardon and the legendary Herreschoff designed 72-ft Ticonderoga won't have to worry about weather later this month when crossing from Newport, Rhode Island, to Cowes, England, for the America's Cup Jubilee. That's because they and 24 other boats from the New York YC - including 12 America's Cup 12 Meters - will be making the 3,100-mile trip aboard Dockwise Yacht Transport's Super Servant 3, a submersible yacht carrier. The ship submerses itself, boats drive onto it, divers secure the yachts to cradles, then the ship is pumped out. Finally, the cradles are welded to the deck of the ship. Over 2,000 yachts have been transported this way. There's only one drawback. It's not cheap. For details, see www.yacht-transport.com.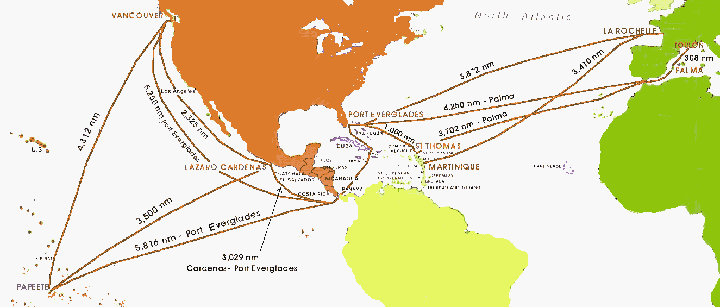 Dockwise Yacht Transport's routing map
---

YOTREPS
July 10 - The Pacific Ocean and Cyberspace
Who is out making passages in the Pacific and what kind of weather are they having? Check out YOTREPS - 'yacht reports' - at http://www.bitwrangler.com/yotreps/
---

Weather Updates
July 10 - Pacific Ocean
San Francisco Bay Weather
To see what the winds are like on the Bay and just outside the Gate right now, check out http://sfports.wr.usgs.gov/wind/.
California Coast Weather
Looking for current as well as recent wind and sea readings from 17 buoys and stations between Pt. Arena and the Mexican border? Here's the place - which has further links to weather buoys and stations all over the U.S.: www.ndbc.noaa.gov/stuff/southwest/swstmap.shtml.
Pacific Sea State
Check out the Pacific Ocean sea states at: http://www.mpc.ncep.noaa.gov/RSSA/PacRegSSA.html.
For another view, see http://www.oceanweather.com/data/global.html.
---
Top
/ Index of Stories / Subscriptions / Classifieds / Home
©2001 Latitude 38 Publishing Co., Inc.