Vendée Globe Update
January 2 - Pacific Ocean
Yesterday around 10:00 am, Michel Desjoyeaux, who is leading the Vendée Globe around-the-world alone race in 'PRB', told his shore team in a brief call that the engine starter had broken down. One hour later, in which he had dismantled the defective part, he called again: "The electrical engine for the starter has burned out. The New Year has started badly."
Now deprived of his main energy source, the engine's alternator, with 2700 miles to go until Cape Horn, Michel commented this morning, "It was already tough, really tough, and now it's just beginning again! Give me an 8-day Figaro race anyday!"
Mich Desj, or 'The Professor', as Desjoyeaux is called, has not been able to find a way to hand-start the engine, and must now use his wind generator and solar panels. In a region where the sun doesn't often shine, this means will not be wholly sufficient to meet all the energy requirements on board a new generation Open 60 with all the satellite communication systems. Desjoyeaux must of course give priority to his autopilots, as it is simply out of the question for the skipper to helm all the time when sailing singlehanded, especially in the bitter Southern Pacific temperatures. And he must have his Standard C, the system for receiving by satellite the weather files, open for several hours every day.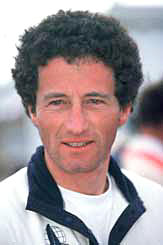 Michel Desjoyeaux
Photo Jacques Vapillon
He informed The Race headquarters that "I am continuing towards Cape Horn and do not demand assistance." Despite his current problem, 'PRB' still holds a 154 mile lead over Roland Jourdain in 'Sill Matines la Portagère' and 175 miles over Ellen MacArthur in 'Kingfisher'. For more, see www.vendeeglobe.com.