Cruising
A Major Shock
January 19 - Mexico City
On January 1, the Port Captains in Mexico - as well as the cruisers - got a major shock. The head of the Port Captains handed down a decree stating that from then on, it would cost owners of boats up to 20 tons 141 pesos - about $15 U.S. - to check into a port, and the same amount to check out. For boats between 20 and 100 tons, the fees is about $25 U.S. for checking in, and then again for checking out. Prior to January 1, there had never been a charge.
Almost as upsetting to cruisers, is the 'dance' they have to do to check in and out. If you're in a marina, you have to get a letter from the marina saying that you've paid up, which you take to the Port Captain. The Port Captain then fills out a form, which you then have to take to a bank to pay the Port Captain's fee. The government does not want Port Captains collecting money. Then you have to go back to the Port Captain, who finally clears you out. It's the same basic three steps to check in. Since there are rarely banks near Port Captains' offices, it can be a real pain. And all this is in addition to Immigration and Aduana, when applicable.
Many cruisers are understandably upset about the disturbingly high fees and the dance - and a few have threatened to make a ruckus or leave the country. But so far cooler heads have prevailed, and there is a lot going on behind the scenes. Perhaps most importantly, Terry Grossman has gone to Mexico City to plead the cause of cruisers and the marine industry. In addition to being the Mexican-born wife of San Carlos boatyard owner Ed Grossman, Terry is the head of Tourism for the state of Sonora and is the president of the Mexican Marina Owners' Association. Terry has had success with federal officials before, as she was a major player in getting approval for the ground-breaking legislation that instituted the 20-year import permit program for boats.
While some cruisers are adamant that there shouldn't be any fees at all, a lot of folks - ourselves included - feel this might be unrealistic. In almost all countries where cruising is popular, fees have to be paid or cruising permits purchased. We don't have anything against a fee-for-services system. However, charging $15 each way is excessive. In addition, having to go through an unnecessarily complicated dance makes the experience a pain rather than a pleasure.
Some cruisers and marina officials have suggested that a $5 charge for checking in and out is more reasonable. And that being able to buy 10 'check in stamps' in advance so you don't have to go the bank each time would save everyone time and effort. We would agree with these proposals - with the provision that some sort of arrangement be made in places such as Banderas Bay where there is a Port Captain at Puerto Vallarta, another at Nuevo Vallarta and, as of December, in La Cruz. In situations such as this - which are relatively unique - you should be able to check in and out of the region, not every time you travel a couple of miles.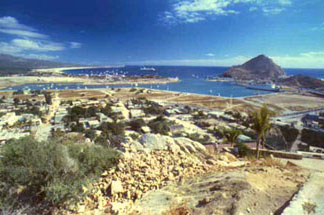 The Port Captains didn't charge fees when
Cabo San Lucas looked like this.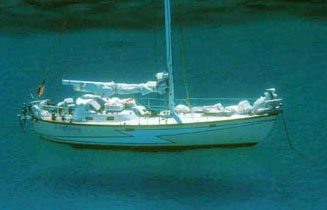 Contrary to Ordinary, Latitude's Freya 39 at the first
Sea of Cortez Sailing Week back in '82 - or was it '83?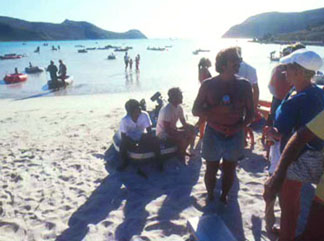 Beach scene at Sea of Cortez Sailing Week
Photos Latitude/Richard
If one travels between major ports with the current fee structure in place, the fees could really mount up. However, they don't necessarily have to. For example, you could easily cruise for months in Mexico where there is no port captain and not have to pay any fees. In addition, from what we've heard, some port captains are turning a blind eye to potential violations. For example, if you leave a marina to go to a nearby anchorage for a night or two, you're technically required to check out and then back in again - and twice pay the fees and do the dance. Right now, we're told, some port captains are turning a blind eye toward what might be considered technical violations.
Many Mexico veterans are confident that the fees will at least be rolled back. They noted that one year ago, anyone bringing a car into Mexico was required to leave an $800 cash deposit. All that's gone away. Keeping cool - and keeping one's fingers crossed - should be the order of the day.