'Club Med' Crushes The 24-Hour Record
February 8 - Southern Ocean

Less than a week after Bernard Stamm established a new 24-hour monohull record of 462 miles with the BOC 60 'Armor Lux - Foie Gras Bizac', and less than two weeks after Loïck Peyron set a new 24-hour multihull record of 629 miles with 'Innovation Explorer', another mark has fallen. In the process of leading The Race, Grant Dalton and 'Club Med' reeled off a staggering 652 miles - or an average of an incredible 27.8 knots! That's akin to sailing from San Francisco to Turtle Bay in one day, and San Francisco to Puerto Vallarta in two days. Dalton described how it happened:
"It all started at about 8 or 9 GMT yesterday. It's been relatively easy, record-breaking weather, as the angle was right and the sea state reasonable. Now that we are more than halfway around the world, we've consumed more than half of our food and fuel, so the boat is much, much lighter and just sails faster. We are beam reaching with flat water and a good wind strength. Not too much, but enough. It's been tempting beforehand to have a go at the record, but the boat has always been loaded up too much. And yes, we have toyed with the thought of records before in The Race, but often the wind and wave conditions either wouldn't allow it or would take us too far from the best course around the world. We managed to do just one sail change maneuver during this last 24 hours. Normally these really slow you down, as it takes up 40 minutes and more sometimes, and hence the miles covered drops. Last night the wind was dropping a touch and, more importantly, shifting, so we needed to put up the solent and full main. I called for all hands on deck, which is rare, and the whole thing took the crew just 18 minutes. During that time the speed dropped to about 20 knots which is a loss of about six miles in that hour. Just before they reached New Zealand, our big rivals 'Innovation Explorer' threw down the gauntlet when they bettered our 24-hour distance by just two miles. When they broke our record, we were struggling through the Cook Straits, with our lead hemorrhaging in the light airs. At the time is was like having salt rubbed into a wound. We've picked up that challenge, and at the first opportunity, less than a week later, we've blown their record away. It feels fantastic!!! Once on my last watch, we sailed past a big iceberg, to leeward. There just wasn't time to alter course upwards to pass to windward. Ed Danby was steering so I went to the mast and, like a traffic warden, waved my arms to indicate which way I wanted Ed to turn to avoid the 'bergy bits'. Directing traffic at 32 knots in the Southern Ocean - a lot of fun..."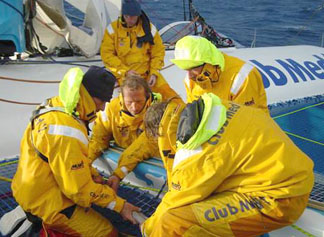 Work Onboard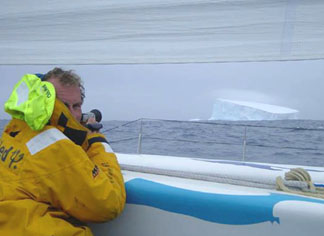 Keeping a Watchful Eye on a Big Iceberg
Photos Courtesy Club Med
'Club Med' is currently riding a front that second place 'Innovation Explorer' is at the back of, so 'Club Med' has dramatically increased her lead to 833 miles and for the short term will continue to build on it.
Rankings of February 8, 2001, 13:30:00 GMT:
1. Club Med / dtf 8,353.5 miles
2. Innovation Explorer / dtl 833.1 miles
3. Team Adventure / dtl 4,910.5 miles
4. Warta Polpharma / dtl 5,884.3 miles
5. Team Legato / dtl 6,749.5 miles