Port Captain fees in Mexico
February 19 - Mexico City

On January 1, Mexico's Secretary of Communication and Transportation instructed Mexican port captains to, for the first time, charge fees each time a boat checked in and out of a port. These fees were not only very expensive, about $20 each way, but required an extra visit to a bank to pay the fee. It was not good. Another reason it wasn't good was because it was confusing. If a boat left a marina to anchor out for a night, did it have to check out and then back in again? Some port captains thought yes, some thought no.

Terri Grossman, president of the Mexican Marina Owner's Association, and several others flew to Mexico City to tell Communications and Transportation that this new law wasn't in anyone's best interest. Not for the Mexican government, not for the port captains, and not for owners of private boats or the Mexican marine industry.

Apparently the government listened, because on February 13, the Director General of Port Captains sent out a temporary modification of the law that is expected to be a prototype of a permanent change in the law. According to Mary Shroyer of Marina de La Paz, the main impact of the modification is that when a boat leaves a port, but stays within the port captain's jurisdiction, they only have to check out over the VHF radio and there is no fee. For example, if a boat that was in La Paz wanted to leave for a month of cruising between Muertos and Agua Verde - a fine and large cruising area - it would only have to inform the port captain over the radio. But if the boat was going to leave the port captain's jurisdiction, perhaps going down to Cabo, up to Puerto Escondido, or over to Mazatlan, the boat would have to check out and pay the fee.

Everything was relatively clear this morning, until we got the following email from Heidi Grossman in San Carlos. Heidi is Terri Grossman's daughter: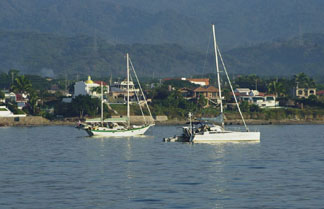 Should these boats anchored off La Cruz have to pay $20 to check out, and then another $20 10 miles later to check into Nuevo Vallarta?
Photo Richard/Latitude
"The law actually states three types of despachos.
1. Interno. The internal despacho is the one that causes some confusion. The law says that this despacho is required when leaving the Captain's port or zone. This usually means that just exiting the port would require you to have a despacho. Some Captains have not really been too strict about requiring this despacho, but others have. The Captain of the Port here has already started requiring a monthly despacho for all rental boats that go out fishing/diving in the immediate San Carlos area. The next step will be to also require these monthly despachos for private owners that fish or dive in the area.
"2. Cabotaje. This despacho applies when you are leaving the port for an overnight stay elsewhere or to another port. This has always required a despacho, and if I am able to become an honorary delegate, I would be able to issue these without having to pay the new port captains fees. Until then clients will have to go through the new steps to get the despacho.
"3. Altura. This despacho is issued when traveling from a Mexican port to a foreign port. This type of despacho may only be issued by the port captain's office and they will charge you the new fees. Another big change in the temporary modification is that day charter boats - particularly the hundreds of sports fishing boats in Cabo - no longer have to check in and out every day. They'll now be allowed to do it once a month."

We're now totally confused, because Mary and Heidi seem to have a different take on Interno despachos. Mary understands they can be done over the radio without a fee; Heidi says not all port captains are seeing it that way, but in any event she's trying to become an honorary delegate so she can do it for cruisers for free. Confusion about Mexican law is nothing new, and we'll try to stay on top of it.