Sir Peter Blake Reported Killed
December 6 - Amazonia, Brazil
America's Cup champion, UN envoy, environmentalist, adventurer, Knight of the British Empire, husband, father . . . Sir Peter Blake was all these things, and his death at age 53 is a loss not just for his family and his native New Zealand, but for the entire world.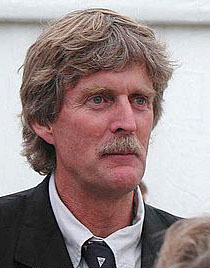 Reports are coming in today that Blake was shot by pirates while traveling in the Amazon, possibly as part of his duties as special envoy for the United Nations Environment Program. Blake was aboard his boat, the Seamaster, with his crew when they were attacked.
Among Blake's many accomplishments are his victories for Team New Zealand in the 1995 and 2000 America's Cups, a record-breaking non-stop circumnavigation in 1994 which earned him the Jules Verne Trophy, and a Whitbread win in 1989. Blake was the only man to complete in all of the first five Whitbreads (now renamed the Volvo Ocean Race).
Before his appointment to the UN, he headed the Cousteau Society, an environmental group founded by undersea explorer Jacques Cousteau. In recognition of his accomplishments, Blake was knighted in 1995. He is survived by his wife Pippa and two children.
Photo James Boyd
Courtesy madforsailing.com
For ESPN's article, see msn.espn.go.com/moresports/news/2001/1206/1290955.html. Another article appears at www.thetimes.co.uk/article/0,,2001564039,00.html. For Blake's own Web site, see www.blakexpeditions.com.