Larry Ellison Speaks
December 5 - San Francisco
"We're like the U. S. Navy - we have a lot more captains than we have ships," claimed Oracle CEO Larry Ellison, speaking yesterday at the annual Oracle OpenWorld conference at Moscone Center. "The strong No. 2, I tried that a couple of times. I'll never do that again. . . Sometimes they get blinded by the limelight, and they become less effective than they were before."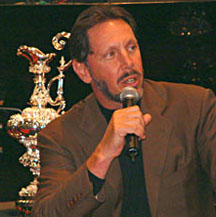 The above quotes (lifted from today's business section of the San Francisco Chronicle) were from Ellison's keynote speech about issues at Oracle Corporation, specifically about recent executive-level shake-ups. We hoped that Ellison would be equally candid at his late afternoon press conference about Oracle Racing and his quest for the America's Cup. Specifically, we were wondering about Paul Cayard's current status - does he still have a future with Oracle Racing? Or will Cayard, who is also on the Nautor Challenge board, be allowed to leave Oracle Racing and possibly join Amer Sports One in the Volvo Race as a replacement for the injured Grant Dalton?
Alas, the press conference was geared toward the non-sailing media, and we learned almost nothing new. Crewmembers Peter Holmberg and Mike 'Moose' Sanderson warmed up the small crowd with a short Power Point presentation, and eventually Ellison - surrounded by a cadre of black-suited bodyguards with Secret Service-like radio cords coming out of their ears - showed up. He sat in front of a one-third scale model of an IACC boat and a miniature replica of the America's Cup, and cheerfully fielded generic questions for half an hour.
Among other things, Ellison announced that he intended to steer ("Yes, I expect to drive. Not all of the time and certainly not at the starts - that would be stupid!"), that his campaign would cost about $85 million ("It's cheap," he deadpanned. "Why doesn't everyone do this?"), that BMW was about to come on as a sponsor and, naturally, that he fully expects to win the America's Cup. Questions about the logistics of defending the Cup on San Francisco Bay were deferred, and the obvious question about Cayard was glossed over - a bit nervously we thought - with a seemingly prepared non-statement.
Ellison did impress us with his obvious love for sailing, which seems more than just a weekend refuge from the business world to him. He spoke about his hugely successful Sayonara program, and how happy and proud he was to be an active part of his team ("If you own a baseball team, you can't go out on the field and play first base. Well, I guess you could, but it would be pretty embarrassing!"). He also told the audience about the fateful '98 Sydney-Hobart Race, an event that seems to have made a lasting impression on him. "What I learned from that experience," stated Ellison. "is that life is short, glorious and fragile."

Good stuff, Mr. E. - now, what about Cayard?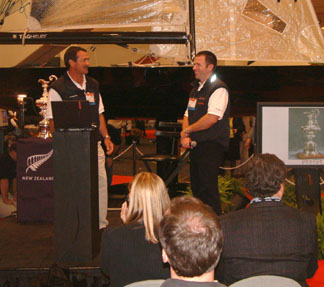 Crewmen Peter Holmberg and Mike 'Moose' Sanderson warmed up the crowd before Ellison came on.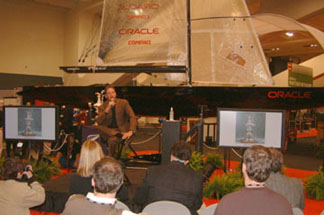 Ellison addressed the press in
front of a scaled-down A-Cup boat
Press Conference Photos Latitude/John Arndt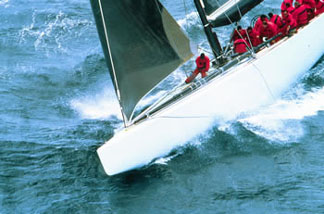 Photo Michael Ng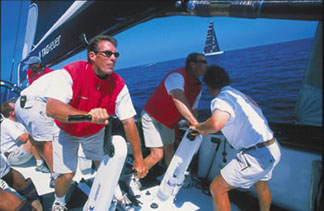 Photo Sally Samins
Sailing photos above are from
summer training in Ventura
Sailing Photos Courtesy www.oracleracing.com