illbruck Makes It Two in a Row
December 4 - Sydney, Australia

illbruck Challenge, led by Northern California's John Kostecki, make it two wins in a row as they crossed the Sydney finish line in first place at the end of Leg 2 of the Volvo Around the World Race. illbruck finished in 22 days, 13 hours, 22 minutes, 26 seconds. SEB came in second place one hour, 13 minutes later, followed by Team News Corp in third. Just seven minutes separated fourth place djuice Dragons and fifth place Amer Sports One.

illbruck sails under the Sydney skyline and approaches
the Opera House finish line to win the second leg.
Photo Will Burgess/Reuters

Skipper John Kostecki points as navigator Juan Vila keeps watch while crewmembers (from left), Tony Colb of Germany, Noel Drennan of Ireland, (obscured), Jamie Gale of New Zealand, and Dirk de Ridder of the Netherlands look on.
Photo Will Burgess/Reuters
Amer Sports One skipper Grant Dalton of New Zealand may have broken ribs, and has been taken to the hospital. The six-time round-the-world race veteran was thrown across the Volvo Ocean 60 when it fell off a wave during a gale in Bass Strait. "I was in the galley area and I was suddenly launched in space," said the injured Dalton. "I broke the stove and the fitting that held it to the bulkhead and slammed into the side of the boat. Roger [Nilson, navigator and doctor] suspects broken ribs and maybe some internal damage. It is very painful, when I breathe or move."
Nilson, confined Dalton to a bunk and administered painkillers, "Grant is in severe pain and has massive bruising," he said. "He cannot move without severe distress." This is the second medical emergency for the team on what must be viewed as an unlucky leg. Crew member Keith Kilpatrick was evacuated at Eclipse Island with an intestinal ailment. Kilpatrick has since made a full recovery.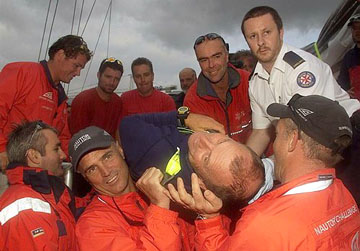 Grant Dalton is transferred from the yacht by crewmembers and a paramedic after sustaining suspected broken ribs and possible internal injuries.
Photo Carlo Borlenghi/SEA&SEE
Neal McDonald's Assa Abloy thundered through the Sydney Harbour Heads, hardening onto a close-hauled course, and tearing through short chop at 10-12 knots. The supposedly fastest boat in the fleet cut through the finish line in sixth place at 09:31:05 GMT today.
Lisa McDonald's Amer Sports Too is still racing and is expected to finish on Wednesday the seventh. Tyco has retired. For more Volvo Race news and photos, see their Web site at www.volvooceanrace.com.