Cruising Boat Hit by Freighter Last Week off New Zealand
December 10 - Nagle Cove, Great Barrier Island

Jordan, Kate and Jonah Bigel departed Seattle in September of 2000 on a proposed circumnavigation aboard their Shannon 50 ketch Queen Jane. On December 3 off New Zealand, there was an interruption to their plans. Here's a slightly edited version of what they report on their Web site:
"On December 3 at approximately 6:20 pm, our Queen Jane was struck just outside Hauraki Gulf in New Zealand by the container ship Southern Cross II that was bound for Nuku'alofa, Kingdom of Tonga. All aboard are safe, and Queen Jane is currently moored at Nagle Cove on Great Barrier Island.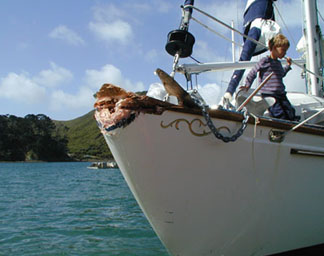 Queen Jane (and Jonah)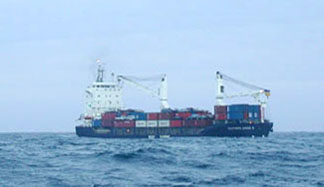 Southern Cross II
Photos Courtesy Queen Jane
"Shortly after 6 pm, Kate and Jonah were down below, and Jordan joined them in order to keep an SSB sked with the sailing vessel Skive. After speaking on the radio and making a log entry, the outboard freighter smashed into the bowsprit of the Queen Jane, sheering it clean off, and stopping the boat dead in its tracks. While the damage to the bow was severe, the boat was intact belowdecks, and only a small breach in the deck allowed water to enter - and only a very small amount at that. After requesting the ship to stand by, New Zealand Maritime Radio was contacted. We started the motor and began to head toward land while assessing the damage. Once we had ascertained that the damage was not life-threatening, Maritime Radio arranged for an escort vessel to lead us into Great Barrier Island. We are grateful to be alive and are in a state of shock still some six hours after the collision. If we had been hit amidships, the Queen Jane would be at the bottom now. Further, any lesser vessel would probably also have been sunk after such a strike. It is only because of the incredible strength of this vessel that we are still afloat. Our thanks to the Shannon Boat Company for building such a tough boat."
We don't want to sound critical, but this sounds like yet another case of a cruising sailboat being hit as a result of not having anyone on watch. Latitude 38 readers will remember that just over six years ago, the Sleavin family's Compass 47 Melinda Lee was hit by a ship 30 miles off of New Zealand. In that tragic case, the boat quickly sank and three of the four Sleavin family members were lost. Always keep a watch, and always assume that your small boat won't be seen by a larger boat.