Why Not Cruise India?
August 31 - Goa, India

"I traveled to India back in April for the wedding of a former grad school roommate," writes Peter Kacandes of Menlo Park. "The wedding was close to Goa, which is the part of India that was colonized by Portuguese traders. The attached picture of the defunct-looking building for the Goa Yachting Association was the only sign I found of a local sailing presence. I was kind of surprised that not many cruisers stop in India. I was wondering if you might have any insight as to why everyone seems to head straight across the Indian Ocean. Are cruisers so spoiled these days that they don't stop anywhere without all the amenities/facilities catering to yachties? Otherwise, it certainly seemed like there were many places in India that could be fertile ground for interesting cruising for those who are willing to be a little adventurous. Thoughts?"
The problem is not that there aren't adventurous cruisers, but rather that India apparently has the world's most difficult bureaucracy for boats. The burden is so great all but a few cruisers just give up. If not for that, we suspect that many folks would gladly cruise to Goa, which along with Ibiza, Spain, and San Francisco were always the main stops on the famous 'Hippie Trail'.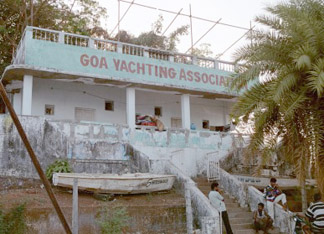 Photo Peter Kacandes