The Charm of Les Saintes
August 3 - Les Saintes, FWI
Answer to the above pop quiz: On the bay of Anse du Bourg on the French West Indian island of Terre-de-Haut in Les Saintes. It is actually not constructed from a wrecked ship, but from concrete blocks. Lying just at the water's edge, it was conceived by a local doctor, who, we assume, is just a wee bit eccentric.
Just a few miles off the southwest tip of Guadeloupe, the tiny cluster of hilly islands called Les Saintes are like something out of an Impressionist painter's dream. Quaint, open-air restaurants line the bay of Anse du Bourg on Terre-de-Haut, the principal island, behind lines of brightly-colored fishing boats. Narrow, windy streets climb the steep, volcanic hillsides where every home has a million-dollar view.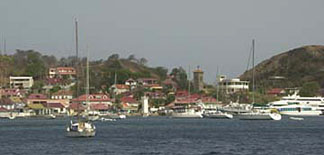 Photo Latitude/Andy
Settled centuries ago by Breton fisherfolk, Les Saintes have maintained a simple, low key lifestyle centered around the sea, and while dependent on Guadeloupe and mother France for support, the inhabitants pride themselves on their own unique identity. Read more about our recent visit there in the August issue of Latitude 38, now available in yacht clubs, marine stores and all the other usual places.