Gravity Storms
August 29 - San Francisco Bay

Last weekend's Quick Boat Series, hosted by San Francisco Yacht Club just south of the Olympic Circle, was an expensive outing for two boats. On Saturday, the Express 37 Sally Ann rounded down and blew out their rig.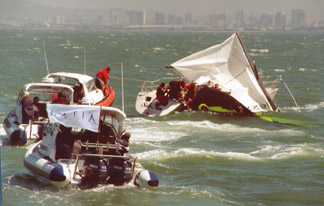 One of their crew ended up overboard, but fortunately he was okay.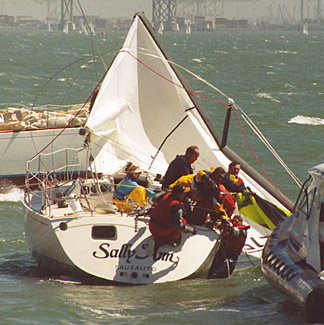 On Sunday, Dale Williams' Farr ILC 46 Wasabi broke its carbon fiber rig at Harding Rock when the port lower spreader inexplicably just broke off. It was "déjà vu all over again" for Williams, who lost his previous rig the day before last year's Big Boat Series. A new mast is already underway at Hi Tec (formerly Sparcraft) in North Carolina, and it will be here in less than two weeks, hopefully in time for this year's BBS, Sept. 13-16.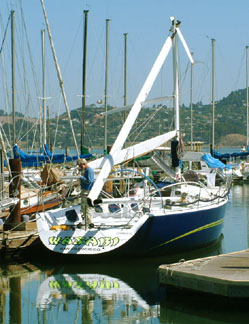 Meanwhile, Wahoo owner Robert Shaw celebrated his birthday by winning the 14-boat Farr 40 class. Mike Campbell, owner of the Andrews-designed TransPac 52 Victoria 5, won the first Americap II regatta on the Bay, defeating four other big boats.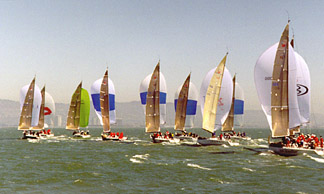 Close racing in the Farr 40 class